Home
>
GMA
>
Recipes Home
>
Ivy Larson's Picnic Pasta Salad with Red Peppers, Chives and Goat Cheese
Ivy Larson's Picnic Pasta Salad with Red Peppers, Chives and Goat Cheese
Recipe Courtesy Ivy Larson, Adapted From 'The Whole Foods Diet Cookbook'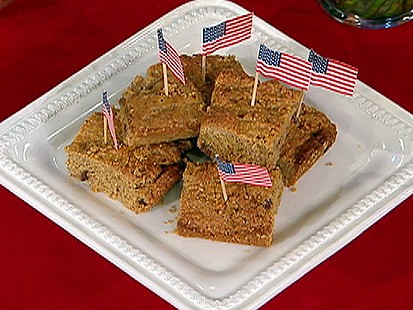 Barbecue meals that won't bust your diet.
From the kitchen of Ivy Larson
|
Ingredients
1 tablespoon extra virgin olive oil
3 cloves garlic, minced
1/2 red onion, finely chopped
Unrefined sea salt, to taste
Coarsely ground black pepper, to taste
1 1/2 cups frozen corn kernels
1 jar fire-roasted red peppers (12-ounces), drained, rinsed, patted dry with paper towels, chopped
2 cups 100 percent whole-wheat or whole grain spelt shell or spiral pasta, cooked
1/4 cup chives, chopped
3/4 cup pitted green olives (look for olives marinated in garlic and extra virgin olive oil from your deli olive bar), chopped, marinated
1 pint cherry tomatoes, cut in half
2 tablespoons flax oil (such as Barlean's)
2 teaspoons apple cider vinegar
1 teaspoon Dijon mustard
1/4 cup crumbled goat cheese
Cooking Directions
Heat olive oil in a large non-stick skillet over medium-high heat.
Add the garlic and onion and saute for 3 to 4 minutes, or until onion is softened.
Season onion with salt and pepper to taste.
Add frozen corn to the skillet and saute for 2 to 3 minutes.
Mix in the red peppers and cook for an additional 2 minutes.
Remove the skillet from the heat.
Transfer the onion, corn, and red pepper mixture to a large serving bowl.
Toss in the cooked pasta shells, chives, olives and cherry tomatoes.
Season to taste with salt and pepper.
In a small bowl, whisk together the oil, vinegar and mustard.
Pour the vinaigrette over the pasta salad and gently toss to mix.
Stir in the crumbled goat cheese.
Cover with plastic wrap and refrigerate until serving time.
Note: Pasta salad can be made up to one day in advance.
Recipe Summary
Main Ingredients: pasta, red peppers, chives, goat cheese, garlic, onions, olives
Course: Appetizer/Starter, Side Dish, Vegetable, Starch, Pasta, Salad
Other Recipes That You Might Like