Diane Henderiks' Lemon Rosemary Chicken Kabobs
Recipe Courtesy Diane Henderiks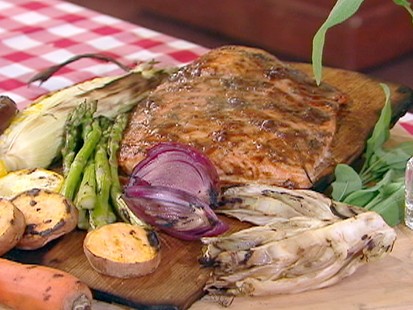 Barbecue recipes that transform easily into healthy leftover lunches.
From the kitchen of Diane Henderiks
|
Ingredients
2 pounds chicken breasts, lightly pounded and cut into 1 inch chunks
4 lemons, juiced
3 garlic cloves, minced
1 tablespoon ground rosemary
Freshly ground black pepper
2 large white onions, cut into 1 1/2 inch chunks
Cooking Directions
Whisk lemon juice, garlic, and pepper together in small bowl.
Place chicken and lemon juice mixture in large ziptop bag and marinate for at least 2 hours (the longer the better).
Make kabobs by threading alternate pieces of chicken and onion on skewers.
Grill on medium heat, turning occasionally for about 15 minutes until done.
Remove from grill and enjoy!
Other Recipes That You Might Like