Diane Henderiks' Sensational Chicken Caesar Salad
Recipe Courtesy Diane Henderiks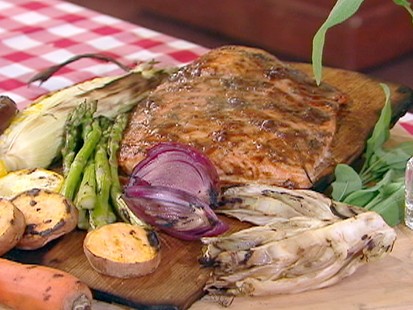 Barbecue recipes that transform easily into healthy leftover lunches.
From the kitchen of Diane Henderiks
|
Ingredients
1/2 cup plain non-fat yogurt
1 teaspoon olive oil
1/2 lemon, juiced
1 1/2 teaspoons red wine vinegar
1/2 teaspoon balsamic vinegar
1 tablespoon Worcestershire sauce
2 teaspoons Dijon mustard
1 tablespoon anchovy paste
2 medium garlic cloves, minced
1 teaspoon freshly ground black pepper
1 head romaine lettuce, chilled and sliced
1 tablespoon grated fresh Parmesan cheese
1 recipe Lemon Rosemary Chicken Kabobs
Cooking Directions
Combine all ingredients for dressing in a bowl and whisk well. Set aside.
Place lettuce in a large serving bowl. Drizzle one half of dressing over salad and toss well.
Add more dressing (as desired) and parmesan cheese. Retoss.
Top with sliced Lemon Rosemary Chicken and enjoy!
Other Recipes That You Might Like