Diane Henderiks' Fig Basted Cedar Planked Salmon
Recipe Courtesy Diane Henderiks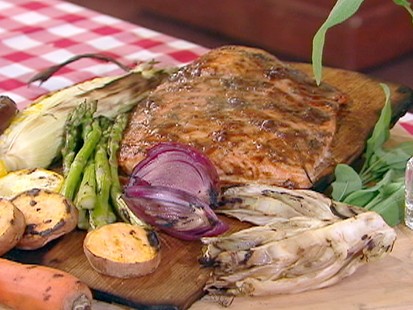 Barbecue recipes that transform easily into healthy leftover lunches.
From the kitchen of Diane Henderiks
|
Ingredients
1 untreated cedar plank (14x7x1 inch)
3/4 cup fig preserves
1 tablespoon fresh lime juice
1 teaspoon chili paste
1 tablespoon rice vinegar
1/4 teaspoon salt
1/4 teaspoon pepper
1 tablespoon oil
1 2 pound salmon fillet (2 lb.), 1 inch thick
Cooking Directions
Place plank in water and weigh down with heavy object to keep under water. Soak at least 4 hours or overnight.
Combine all ingredients for dressing in bowl, whisk well, and set aside.
Brush top of cedar plank with oil.
Top with fish and place on grill, cover with lid.
Grill about 10 minutes.
Baste and then grill about 5 more minutes or until fish is light pink and flakes easily with a fork.
Note: Use a sheet of heavy-duty foil if you don't have a cedar plank.
Other Recipes That You Might Like