John DeLucie's Bananas Foster
Chef's Table: Waverly Inn Recipe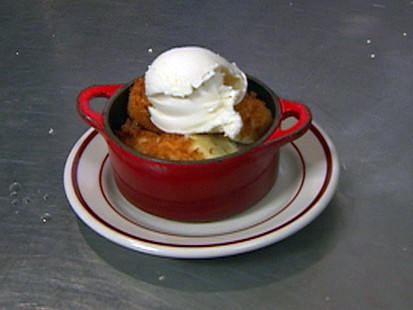 Waverly Inn chef John Delucie updates bananas in a southern favorite.
From the kitchen of John DeLucie
|
Chef John DeLucie slices and sautees ripe Bananas with old world flair.
Ingredients
For the Bananas:
1 Banana, peeled and cut in half
2 Eggs, beaten
1 cup panko bread crumbs
1 cup canola oil for frying
For the Sauce:
¼ cup butter
1 cup brown sugar
½ teaspoon cinnamon
¼ cup banana liqueur
¼ cup dark rum
2 scoops vanilla ice cream
Cooking Directions
For the Bananas:
Heat the Oil in a Thick Bottom Pot. Roll the Bananas in the egg then the panko crumbs to coat and set aside.
When the oil begins to smoke, gently place the banana halves in pot and cook until golden brown. Less than 1 minute.
For the Sauce:
Combine the butter, sugar, and cinnamon in a flambé pan or skillet. Place the pan over low heat on top of the stove, and cook, stirring, until the sugar dissolves. Stir in the banana liqueur. Remove from heat and add in Rum. Then continue to cook the sauce over high heat until the rum burns off - sauce will foam.
To Finish:
Slice cooked Banana into quarters and place in dish. Scoop Vanilla Gelatto or Ice Cream on top.
Generously spoon warm sauce over the top of the bananas and ice cream and serve immediately.
Other Recipes That You Might Like