DBGB'S Tomato-Onion Compote
Chef's Table: DBGB Kitchen and Bar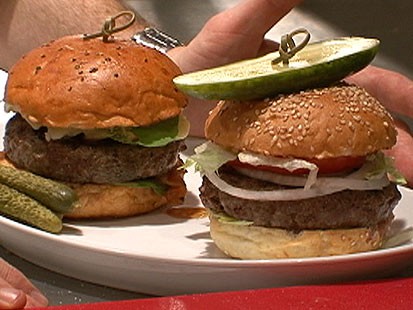 Check out burger decadence with the Piggie, the Yankee and the Frenchie.
From the kitchen of Daniel Boulud and Jim Leiken
|
Chef Jim Leiken's tomato fresh burger topping.
Ingredients
For Tomato-Onion Compote
4 plum tomatoes (about 3/4 pound), halved lengthwise and seeded
1/4 teaspoon sugar
Salt
White Pepper, freshly ground
3 thyme sprigs
2 garlic cloves, thinly sliced
1 tablespoon extra virgin olive oil
1 Spanish onion (about 3/4 pound), quartered lengthwise and thinly sliced
1/4 cup oil-packed sun-dried tomatoes, drained and finely chopped
2 tablespoons chopped basil.
Cooking Directions
Assembly:
1. Heat oven to 200 degrees. Line a baking sheet with foil, and spread tomatoes cut side up on sheet. Season with sugar, 1/4 teaspoon salt and 1/8 teaspoon pepper. Scatter thyme and garlic on top, and oven-dry for 4 hours.
2. Meanwhile, in a medium sauté pan, heat olive oil. Add onion, season with salt, and cook over medium-low heat, stirring occasionally, until very tender and golden brown, about 35 minutes.
3. Cool tomatoes, then peel and place on a cutting board. Finely chop tomatoes with cooked garlic. Place in a bowl. Pull oven-dried thyme leaves off their stems and add to tomatoes; discard stems. Add sun-dried tomatoes, onion and basil to bowl and combine. Taste compote, and add salt and pepper if needed.
Yield: About 1 1/2 cups
Other Recipes That You Might Like