Florian Hugo's Floating Island
Chef's Table: Brasserie Cognac Recipe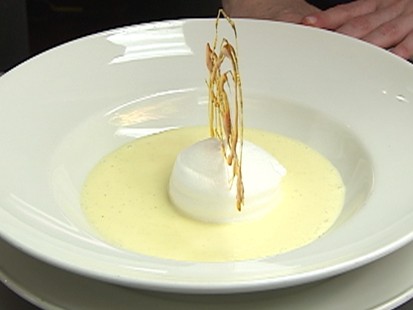 Brasserie Cognac chef Florian V. Hugo turns ingredients into a floating dream.
From the kitchen of Florian V. Hugo
Chef Florian V. Hugo turns simple ingredients into a floating dream.
Ingredients
For the Merinque:
180 gr (6.35oz) fresh egg white
150 gr (5.3oz) sugar
For the Creme Anglaise:
6 yolk
½ cup sugar
½ qt Heavy Cream
1 vanilla bean
For the Caramel:
100gr (3.5oz) sugar
50gr (2oz) water
Cooking Directions
For the Creme Anglaise:
Boil the milk with half of the sugar and the vanilla bean (previously cut in half and scraped to diffuse the grains in cream).
Separately, whisk really hard in a mixing bowl, the yolks and the remaining half of sugar. (This will allow the yolk not to become too grainy and to blend well with the cream).
Once the cream is boiling, whisk 1 cup of that cream with the yolks, then pour the yolk mix back in the cream.
With a wooden spoon, finish cooking the cream,stirring constantly on low heat, until it thickens (you will know when you pass your finger on the back of the spoon and the mark remains..)
Remove the vanilla bean and reserve in the fridge.
For the Merinque:
In a kitchen aid mixer, or using a hand electric whisk, mix the egg whites until they start getting a bit firm then add the sugar and continue whisking until really firm.
Fill a pastry bag then mold on a parchment paper previously sprayed with pam (cooking oil spray bottle). Reserve in the fridge.
In a large pot, boil water with a few drops of white vinegar.Then very carefully remove each meringue form the paper and place on surface of simmering water. Poach this way for 5 min then flip and repeat procedure. Remove with a spider or flat skimmer and place on wax paper or parchment paper in the fridge.
For the Caramel:
In a pan, melt sugar with water and cook until golden brown. Shut the heat and let coo down for a minute or two. Prepare a tray with parchment paper, spray with pam. Using a fork, dip in the caramel and drizzle circle-wise on the paper. Make a few extra of those in case they break. Let cool down in a dry place.
To Finish:
In a bowl, pour enough (cold) crème anglaise to cover the bottom, place one meringue in the middle then stick one caramel lace on top of it.
Recipe Summary
Main Ingredients: eggs, sugar, cream, vanilla bean
Course: Dessert