Kristen Abbott's Buffalo Wing Sandwich
Kristin Abbott Wants Everything to Taste Like Buffalo Wings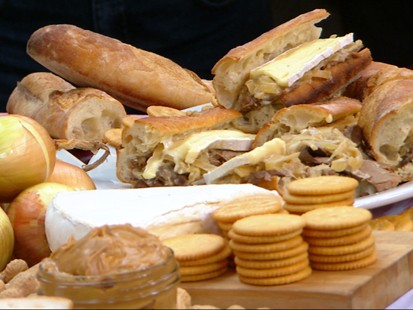 Correspondent Taryn Winter Brill tests out some new recipes.
From the kitchen of Kristen Abbott
Taryn Winter Brill is on the search for sandwiches across America. This one comes to "Good Morning America" from Kristen Abbott of Havertown, Pa. She writes: "This sandwich uses the flavors of hot Buffalo wings and blue cheese sauce in a delicious sandwich with toasted potato bread. I love Buffalo wings and blue cheese, and I've tried to take every food item I can think of and make it taste like Buffalo wings. I also make chicken sandwiches for myself all the time and began to get bored with the same old chicken sandwich. So I made this chicken sandwich taste like Buffalo wings."
Ingredients
2 slices potato bread
4 - 6 ounces deli sliced chicken
Dollop butter
1/4 cup wing sauce
2 - 3 tablespoons blue cheese dressing
Cooking Directions
Toast two slices of potato bread. (I use potato bread because I live in Pennsylvania and potato bread is a much-loved Pennsylvania Dutch bread.)
While the bread slices are toasting, take about a handful of deli sliced chicken and add the pieces to a pan on the stove, add dollop of butter and heat on the stove until they're warm. This takes about 1 minute.
Add to the chicken 1/4 cup wing sauce.
Stir the sauce and chicken slices until they are evenly coated with sauce.
Spoon the chicken mixture on to one of the slices of warm toasted potato bread.
Then spread 2 to 3 tablespoons of blue cheese dressing onto the other slice of bread.
Place the blue cheese bread onto of the meat to complete the sandwich.
Slice the sandwich if you prefer and enjoy!
Recipe Summary
Main Ingredients: chicken, wing sauce, potato bread, blue cheese
Course: Dinner, Lunch, Main Course, Party Platter