Dad's Sandwich: Bologna and Cheese With Tasty Toppings
A Daughter's Fond Food Memory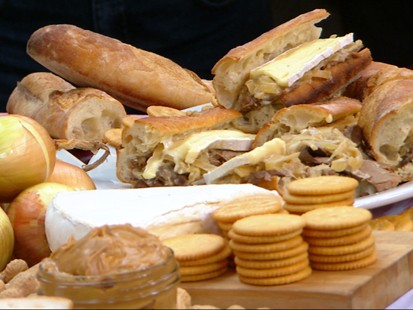 Correspondent Taryn Winter Brill tests out some new recipes.
From the kitchen of John Barnhart
Taryn Winter Brill has another sandwich story. This one comes from Teri Harris of Tulsa, Okla. and it brings back fond memories of her dad, John Barnhart:
"My sandwich is not anything special, except to my brother and I. It was invented by my Dad, who was "in charge" of us when my Mom was having our brother in 1962."
Harris says the combination of ingredients may sound strange, but it tastes great and brings back great memories for her family.
Ingredients
white bread
Miracle Whip
peanut butter
bologna
American cheese
lettuce
Cooking Directions
Take white bread and add Miracle Whip on one slice, peanut butter on the other.
Top with bologna, American cheese and lettuce.
Recipe Summary
Main Ingredients: bologna, peanut butter, cheese
Course: Dinner, Lunch