'Good Morning America' Pot Roast & Brie Sandwich
A Sandwich Was Born Out of a Failed Breakfast Dish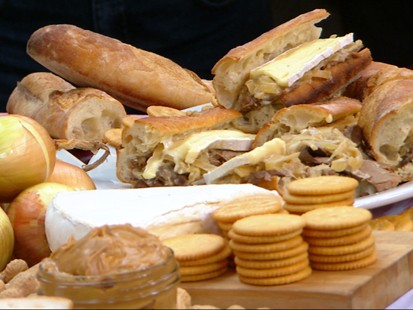 Correspondent Taryn Winter Brill tests out some new recipes.
From the kitchen of Barri Noll
Taryn Winter Brill has been featuring "America's Best Sandwiches" on "GMA." This one comes to us from Barri Noll of Panama City, Fla and who wrote GMA, "As a New Year's Resolution, I wanted to "cook and not just reheat food" (I usually use my oven for storage)." Her recipe came about through trial and error and now it is a family favorite.
"I served pot roast with eggs to my kids for breakfast ... my kids did not appreciate my efforts so I tried to make it into a beef Stroganoff dish. Since I don't cook, I mixed the pot roast with cream cheese rather than sour cream. The mixture was very thick so I put it on a Ritz cracker (toasted French baguette is the sandwich choice).My husband bought some brie cheese at the store and so I added a piece to the top.I served this to guests at my house that night and they liked it. So my pot roast brie sandwich was born. Enjoy!"
Ingredients
pot roast
5 vidalia onion
8 ounces cream cheese
French baguette
brie cheese
Cooking Directions
Take a pot roast and slow roast it in a crock pot with 5 onions.
After it is done, let cool and sit in juices overnight.
Mix the pot roast with cream cheese, top with a slice of Brie cheese and spread on a French baguette.
Recipe Summary
Main Ingredients: pot roast, onions, cream cheese, baguette
Course: Brunch, Dinner, Lunch, Main Course