Rachael Ray's Caprese Lasagna for Under $10!
Dinner for Under $10: 'Meals for a Steal' from Rachael Ray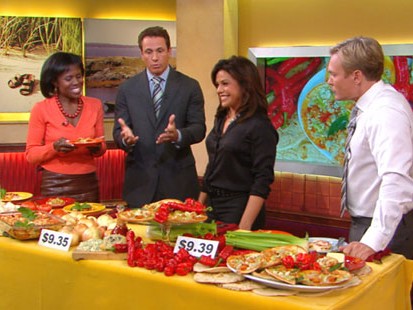 TV chef prepares caprese lasagna and buffalo chicken pizza for less than $10.
From the kitchen of Rachael Ray
|
Rachael Ray, queen of 30 minute meals and daytime, joins us with one of her tasty "meals for a steal." Caprese Lasagna is bound to make your family happy at the dinner table. Mangia!
Recipe courtesy Rachael Ray
Ingredients
2 tablespoons butter
2 cloves garlic, finely chopped or grated
2 tablespoons flour
1 cup milk
1 cup chicken stock
fresh nutmeg, few gratea
Salt, to taste
ground black pepper, to taste
1 box oven-ready lasagna noodles
1 cup shredded mozzarella cheese
1/2 bunch basil, chopped
4 Roma tomatoes, thinly sliced
Cooking Directions
Preheat oven to 375ºF.
Place a large saucepot over medium-heat and melt the butter.
Add garlic to pan and cook until aromatic, about 1 minute.
Sprinkle the flour over the butter and garlic, and cook for about 1 minute.
Whisk the milk and chicken stock into the butter-flour mixture and bring up to a bubble.
Add the nutmeg, season with salt and ground black pepper, and simmer until thickened, 3-4 minutes.
Assemble the lasagna by ladling a small amount (about 1/4 cup, just eyeball it) of the sauce into the bottom of a 9x13" baking dish and laying 3 lasagna noodles over the sauce.
Top the noodles with about a third of the sliced tomatoes, a third of the basil, 1/4 cup of sauce and about a third of the shredded cheese.
Repeat until all ingredients are used up, topping the lasagna off with a final layer of sauce and shredded cheese.
Cover the pan with aluminum foil and bake the lasagna for 30 minutes.
Remove the foil from the baking dish and bake another 15 minutes until the cheese is melted and the sauce is bubbly.
When ready to serve, top with remaining chopped basil leaves.
Serves 4
Caprese Lasagna (Total: $9.35)
Cost:
$0.22 2 tablespoons butter
$0.08 2 cloves garlic, finely chopped or grated
$0.08 2 tablespoons flour
$0.26 1 cup milk
$0.72 1 cup chicken stock
$0.04 A few grates fresh nutmeg
XX Salt and freshly ground black pepper
$1.93 1 box oven-ready lasagna noodles
$2.00 1 cup shredded mozzarella cheese
$2.18 Half a bunch (about 30 leaves) basil, chopped
$1.92 4 Roma tomatoes, thinly sliced
Other Recipes That You Might Like