Rachael Ray's Buffalo Chicken Flatbread Pizzas for Under $10
'Meals for a Steal': Rachael Ray's Delish Take on Pizza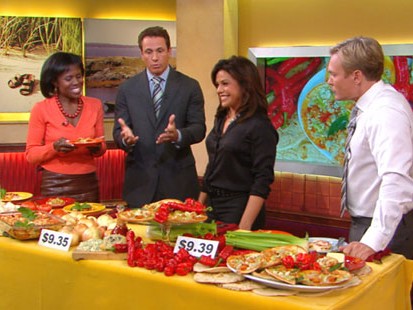 TV chef prepares caprese lasagna and buffalo chicken pizza for less than $10.
From the kitchen of Rachael Ray
Rachael Ray, queen of 30 minute meals and daytime, joins us with a recipe for Buffalo Chicken Flatbread Pizzas. Easy to get on the table and sure to be a hit with the family!
Recipe courtesy Rachael Ray
Ingredients
2 tablespoons EVOO (extra virgin olive oil)
1 pound boneless, skinless chicken thighs, chopped into bite-size pieces
Salt
ground black pepper
2 tablespoons butter
1/2 cup Frank's red hot sauce
4 flatbread rounds
3 ribs celery from the heart, sliced thinly on a bias
3/4 cup blue cheese crumbles
Cooking Directions
Preheat oven to 450ºF.
Place a large skillet over medium-high heat with 2 turns of the pan of EVOO, about 2 tablespoons.
Season the chicken pieces with salt and ground black pepper, and add them to the preheated skillet. Sauté until cooked through and golden brown, 4-5 minutes.
Once the chicken is done cooking, reduce the heat to medium and add the butter to the skillet to melt.
Add the hot sauce and cook, stirring occasionally, until the sauce has thickened and coats the chicken, 2-3 minutes. (Be careful not to take a deep breath over the pan or the hot sauce fumes could burn your sinuses!)
When the chicken is ready, place the flatbread rounds on a baking sheet and divide the chicken equally between all four rounds.
Scatter the celery over the chicken and top each round with some blue cheese crumbles.
Bake until the bread is crisped and the cheese has melted, about 5 minutes.
Cost:
Buffalo Chicken Flatbread Pizzas (Total: $9.39)
$0.40 2 tablespoons EVOO - Extra Virgin Olive Oil
$3.42 1 pound boneless, skinless chicken thighs, chopped into bite-size pieces
XX Salt and ground black pepper
$0.22 2 tablespoons butter
$1.04 1/2 cup Frank's red hot sauce
$1.68 4 flatbread rounds
$0.57 3 ribs celery from the heart, sliced thinly on a bias
$2.06 3/4 cup blue cheese crumbles
Recipe Summary
Main Ingredients: chicken, blue cheese, hot sauce, blue cheese
Course: Appetizer/Starter, Brunch, Dinner, Lunch, Main Course, Party Platter
More Info: Kid Friendly