Hungry Girl's Bake-tastic Butternut Squash Fries
Recipe Courtesy of Hungry Girl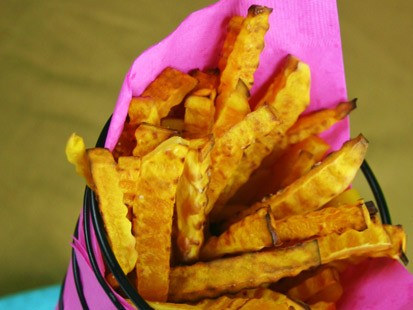 From the kitchen of Hungry Girl
Ingredients
1 medium butternut squash (about 2 pounds - large enough to yield 20 ounces uncooked flesh)
1/8 teaspoon kosher salt
Cooking Directions
Preheat oven to 425 degrees.
Use a sharp knife to remove the ends of the squash.
Cut squash in half widthwise (making it easier to manage) and then peel squash halves using a vegetable peeler or a knife.
Cut squash in half lengthwise and then scoop out all seeds.
Next, cut squash into French fry shapes. Use a crinkle cutter to make authentic-looking crinkle-cut fries (they'll taste great any way you slice 'em, though).
Using a paper towel, pat squash pieces firmly to absorb any excess moisture.
Place squash in a bowl, add a light mist of nonstick spray, and sprinkle with salt.
Toss squash to evenly distribute salt and then transfer to a large baking pan sprayed with nonstick spray. Use 2 pans if needed. Squash pieces should lie flat in the pan.
Place pan(s) in the oven and bake for 40 minutes or so (longer for thick-cut fries, shorter for skinnier fries), flipping halfway through baking. Fries are done when they are starting to brown on the edges and get crispy.
Recipe Summary
Main Ingredients: butternut squash
Course: Dinner
More Info: Low Calorie