Spike Mendelsohn's Avocado Shake
A New Twist on Milkshakes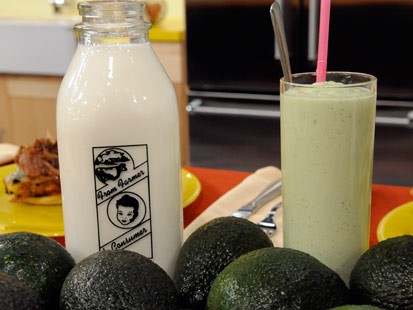 From the kitchen of Spike Mendelsohn
Spike Mendelsohn was 13 years old when he had his first real experience in the kitchen, putting his feet to the fire by filling in for a missing sauté cook at the height of the evening rush in his parents' busy restaurant. Born in Montreal and trained in classic French cuisine in restaurants around the world, Spike has opened a new restaurant, Good Stuff Eatery, featuring his own personal weaknesses -- handmade hamburgers, handcut fries and handspun milkshakes in an environmentally friendly atmosphere.
Spike was also a competitor in Season 4 of "Top Chef" where he made it to the final five.
Ingredients
4 ripe avocados
One 14-ounce can sweetened condensed milk
2 cups creamy vanilla ice cream
1 cup whole milk
1/2 cup fresh cilantro leaves, chopped
Cooking Directions
Peel each avocado, discarding the pits, and put them into a blender. Process until finely chopped, about 2 minutes. Add the remaining ingredients, reserving 2 1/2 tablespoons chopped cilantro for garnish.
Blend well until smooth, about 1 minute. Pour into four 8-ounce glasses and garnish each with 2 teaspoons chopped cilantro.
Recipe Summary
Main Ingredients: avocado, milk, ice cream
Course: Drinks