Daniel Boulud's Bar Boulud Coq Au Vin
Chef's Table: Bar Boulud's Recipe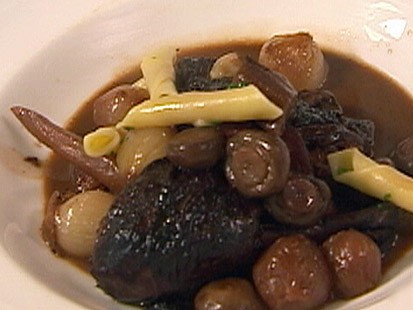 Chef Daniel Boulud marinates chicken and vegetables submerged in red wine.
From the kitchen of Daniel Boulud
|
Chef Daniel Boulud marinates red wine with chicken to perfection.
Ingredients
2 Amish chicken, broken into 4 breasts and 4 legs
4 celery stalks, peeled and cut into 2" batons
2 heads garlic, sliced in half
2 pounds small button mushrooms, cleaned and trimmed
1 pound pearl onions
2 pounds baby carrots, peeled and trimmed
1/2 pound slab bacon, cut into ¼ inch slices
Sachet (8 sprigs thyme, 1 fresh bay leaf, 2 teaspoons coriander seed, 1 teaspoon cracked white pepper tied up in cheesecloth with butchers twine)
1 bottle (750ml) dry red wine
1/2 bottle (375ml) ruby port wine
4 tablespoons olive oil
4 tablespoons all-purpose flour
4 cups unsalted chicken stock or canned chicken broth
1 bunch fresh parsley, for garnish
Salt and freshly ground pepper
For the Foam:
1/4 cup lobster stock, reduced
1/4 skim milk
Cooking Directions
For the Benedict:
Place oil, chopped garlic, Scallops and Chorizo slices in a sauté pan on medium heat. Cook together until garlic is golden brown and let rest, strain.
For the Lobster Foam:
1. The Day Before: Separate the chicken legs and thighs. Place in a large container with the celery, garlic, mushrooms, pearl onion,s carrot, carrots, and bacon. Cover all ingredients with the red wine and port and marinate in the refrigerator overnight.
2. Preheat the oven to 325°F. Drain all ingredients from the wine and reserve. Reduce the wine in a large pot by half. Meanwhile, pat all ingredients dry and brown the bacon in a Dutch oven; remove and set aside, reserving the fat in the pot. Sear the chicken on all sides in one layer. Remove the chicken; add the sliced vegetables and cook, stirring occasionally, on medium heat until browned about 5 minutes. Add the flour and cook, stirring, for another 4 minutes.
3. Add the reduced wine, crisped bacon, chicken, veal and chicken stock. Bring to a simmer, cover with a round of parchment paper and transfer to the oven. Cook for 1 to 1 ½ hours, or until the chicken is tender.
4. If the sauce seems too thin, remove the chicken and vegetables, and return to the heat and reduce until desired consistency (it should coat the back of a spoon). Incorporate all ingredients back together and serve hot.
Note: This dish is great served with fresh pasta or rice. It can be kept, chilled, for up to 4 days.
Wine Recommendation: 2007 Cotes du Rhone, Mont Olivet
Other Recipes That You Might Like