'Better Than Mama's' Chili Mac
What Happens When You Cross Chili and Mac and Cheese?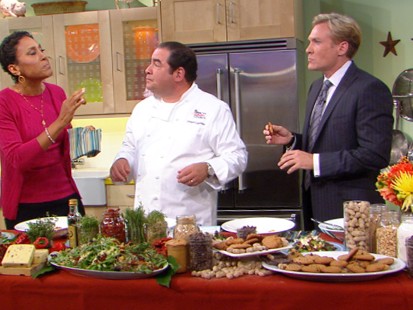 Emeril Lagasse offers some tasty recipes you can prepare for your next potluck.
From the kitchen of Emeril Lagasse
Emeril Lagasse says this is a super tasty, super simple casserole recipe that's sure to be a winner at any party, family meal or gathering.
Ingredients
2 teaspoons olive oil
2 medium onions, cut into small dice (about 3 cups)
2 jalapeños, stemmed and minced (optional)
2 to 3 teaspoons salt, plus more for the pasta water
2 pounds extra-lean ground beef
5 tablespoons Mexican chili powder
1 tablespoon dried Mexican oregano
2 tablespoons minced garlic
One 28-ounce can whole plum tomatoes, broken with your hands, with juices
Two 15-ounce cans kidney beans, drained
1/2 cup water
1 pound elbow macaroni
1 pound medium sharp cheddar cheese
Sour cream, for serving (optional)
Cooking Directions
Prep time: 10 minutes
Cook time: 40 minutes
Inactive time: 5 minutes
Total: 55 minutes
1. Heat the olive oil in a 6-quart soup pot over medium-high heat. Add the onions, jalapeños (if desired), and 2 teaspoons of the salt. Cook until the onions are soft, 2 minutes. Add the ground beef, chili powder, oregano, and garlic, and cook, breaking up any clumps of meat with a spoon, for 5 minutes. Add the tomatoes and their juices, beans, and water. Stir, and bring the chili to a boil. Then reduce the heat to a simmer and cook until thickened to chili consistency, about 20 minutes. Taste, and add 1 more teaspoon salt if needed.
2. While the chili is simmering, preheat the oven to 400°F.
3. Place a 9 × 13½-inch or other 3-quart baking dish on a baking sheet. Bring a pot of salted water to a boil, add the macaroni, and cook until just tender, 6 minutes. Drain in a colander, rinse under cool running water, and set aside. Grate the cheddar cheese and set it aside.
4. Once the chili has finished cooking, fold in the cooked macaroni and one- third of the cheddar. Transfer the chili- mac mixture to the baking dish and top with the remaining cheese. Bake until the chili is heated through and the cheese has melted, about 10 minutes.
5. Remove from the oven and let cool for 5 minutes before serving. Garnish each portion with a dollop of sour cream, if desired.
Recipe courtesy Emeril Lagasse, "Emeril 20-40-60" , HarperStudio Publishers, New York, 2009, courtesy Martha Stewart Living Omnimedia, Inc
Recipe Summary
Main Ingredients: macaroni, cheddar cheese, beef, plum tomatoes, kidney beans
Course: Brunch, Casserole, Dinner, Main Course