Peanut Butter-Chocolate Cookies
Peanut Butter + Chocolate = A Tasty Cookie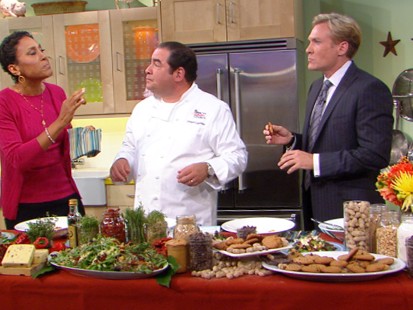 Emeril Lagasse offers some tasty recipes you can prepare for your next potluck.
From the kitchen of Emeril Lagasse
"These are by far the easiest and best-tasting peanut butter cookies you will ever make. A perfect recipe for kids -- no fuss, no muss."
-Emeril Lagasse
Ingredients
1 cup creamy peanut butter
1/2 cup granulated sugar
1/2 cup packed light brown sugar
1/2 cup semisweet chocolate chips
1 large egg, beaten
1 teaspoon vanilla extract
Cooking Directions
Prep time: 5 minutes
Cook time: 10 minutes
Total: 15 minutes
1. Position two oven racks in the center of the oven and preheat the oven to 350°F.
2. Combine all the ingredients in a bowl, and stir with a wooden spoon until smooth.
3. Divide the dough into 24 portions, about 1 heaping tablespoon each. Roll each portion between your hands to form a smooth ball. Place the balls of dough on ungreased cookie sheets, spacing them 1 inch apart. You should get about 12 cookies per sheet. Using
a fork, press on the dough in two directions to form a crosshatch pattern.
4. Bake the cookies, rotating the sheets between oven racks and turning them back to front midway, until the cookies are puffed and lightly golden, about 10 minutes. Remove the baking sheets from the oven and let the cookies cool on the sheets. Then remove them with a metal spatula.
Makes about 24 cookies
Recipe courtesy Emeril Lagasse, "Emeril 20-40-60" , HarperStudio Publishers, New York, 2009, courtesy Martha Stewart Living Omnimedia, Inc
Recipe Summary
Main Ingredients: peanut butter, chocolate chips
Course: Cookies, Dessert
More Info: Kid Friendly