Cat Cora's Feta-Mint Tzatziki
On Chef's Table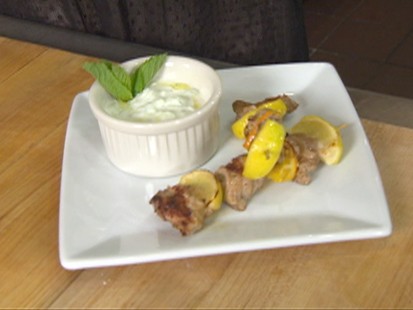 Chef Cat Cora marinates pork skewers and prepares cucumber fresh yogurt.
From the kitchen of Cat Cora
|
Not all feta tastes the same. Try this with Greek feta or an American artisanal feta and see how different the final result tastes. Mint adds a cool flavor and nice flecks of color to this version of a Greek classic.
Pair with Cat Cora's Pork Souvlaki.
Ingredients
In a medium bowl, combine all ingredients except the cucumber. Using an old-fashioned box grater, grate the cucumber directly over the yogurt mixture. Cover the bowl, put it in the refrigerator, and chill for at least an hour or overnight.
Cat's Note : Greek yogurt is so thick you can place a spoon in the middle, walk away, and the spoon will remain standing right where you left it. American yogurt is much thinner. If you don't have time to strain, don't worry; you can use the yogurt right out of the carton and the flavor will still be just fine.
Cooking Directions
1 cup plain yogurt, strained (see note below)
2 tablespoons crumbled feta cheese
1 tablespoon fresh lemon juice
2 tablespoons good olive oil
1 teaspoon minced garlic (about 1 large clove)
1 teaspoon kosher salt
2 teaspoons finely chopped mint
1 cucumber, peeled
Other Recipes That You Might Like