Emeril Lagasse's Mexican Casserole
Emeril Presents a Mexican Twist on a Classic American Dish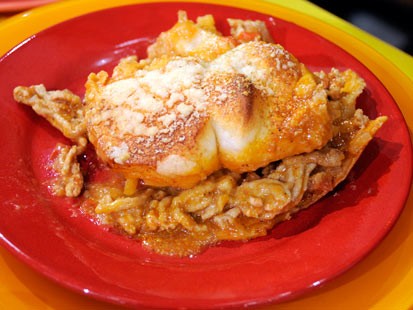 From the kitchen of Emeril Lagasse
|
The Mexican casserole was chosen as one of the three final dishes in the "Come Together" campaign, urging people to have dinner parties and donate money to Feeding America, which feeds hungry Americans. "Good Morning America" and Macy's were also part of the project.
CLICK HERE to learn more about "Come Together."
Ingredients
2 tbsp olive oil
1 lb. ground chicken
1 1/2 tbsps cumin
1 tbsp chili powder
1 med onion, chopped
2 garlic cloves, chopped
3 med tomatoes, diced
1/2 cup ketchup
1/2 cup water
8 six-inch flour tortillas
1 lb. American cheese, shredded
1/2 cup potato chips, crushed
2 7.5-ounce packages of canned buttermilk biscuit dough
drizzle of olive oil
chili powder for garnish
cumin for garnish
1/2 cup Parmesan cheese
Cooking Directions
Heat olive oil in a large skillet over high heat.
Add ground chicken and brown thoroughly, 5-7 minutes.
Add onion, garlic, cumin, chili powder and tomatoes and saute until softened.
Add ketchup and water and simmer for about 6 minutes, until chicken is cooked through and the liquid has reduced by half.
Layer flour tortillas, overlapping, in the bottom of a 9x13" glass baking dish.
Pour chicken mixture over tortillas.
Sprinkle American cheese over the mixture, and then follow with the crushed potato chips.
Place biscuits over the top, to cover the casserole. Drizzle with olive oil.
Sprinkle with chili powder, cumin, and Parmesan cheese over top of biscuits.
Bake in oven for 20-25 minutes, until casserole is bubbling and biscuits are golden brown.
Let sit for 10-15 minutes before serving.
Other Recipes That You Might Like