Sliced Orange Salad with Sautéed Olives and Ricotta Salata
From Chef's Table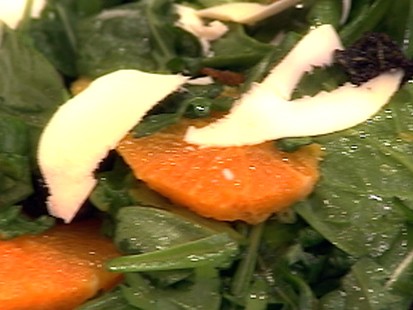 Chef Michael Chiarello sautes olives and slices Ricotta for warm salad.
From the kitchen of Michael Chiarello
|
Michael Chiarello is an award-winning chef, Emmy-winning Food Network host, "Top Chef Masters" finalist, tastemaker behind the NapaStyle retail company, highly rated vintner and noted cookbook author. Throughout his career, Michael has combined his Southern Italian roots with Napa Valley living to pioneer culinary and lifestyle trends.
Michael incorporates his personal passion for seasonal, sustainable living, into all that he does. From the growers that he supports as chef and owner of Bottega Napa Valley and his product designs for NapaStyle, to his earth-friendly farming practices for his vineyards and the storylines for his Emmy-winning Food Network show, Michael shares his unique perspective on what comprises good food and healthy living in an old-world lifestyle.
Based in the Napa Valley, Michael lives among his vineyards with his wife, children and golden retriever.
His book "At Home With Michael Chiarello" is featured.
Ingredients
4 navel oranges
2 tablespoons extra-virgin olive oil
1 tablespoon finely chopped fresh rosemary
1/2 cup oil-cure black olives, pitted and halved
6 cups baby spinach or arugula, lightly packed (about 6 ounces
1/4 cup citrus vinaigrette
Freshly ground sea salt, preferably gray salt
Freshly ground black pepper
1/2 cup dried sour cherries, dried cranberries, or raisins
Cooking Directions
Using a vegetable peeler, remove the zest from 1 orange in strips. Cut the strips lengthwise as thinly as possible until you have 1 tablespoon thin slices. Reserve the thin slices and discard the remaining zest. Using a large, sharp knife, place the peeled orange upright on a cutting board and cut off the pith, following the contour of the fruit. Peel the remaining 3 oranges, one at a time, by first cutting off the stem and blossom end, revealing the flesh, and then cutting away the peel and pith, following the contour of the fruit. Cut all 4 oranges crosswire into 1/4-inch-thick slices. Cut each slice in half to form half-moons and remove any seeds.
In a 10-inch skillet, heat the olive oil over high heat. When the oil is hot, add the rosemary and cook for a few seconds, then add the olives. Cook for 10 seconds, then add the thinly sliced zest. Cook for a few seconds longer, then remove the skillet from the heat and allow the mixture to cool in the skillet.
Put the spinach in a large bowl. Pour the olive-orange mixture from the skillet over the spinach and add the vinaigrette. Toss gently to coat the spinach evenly. Add the reserved orange slices and toss a bit more to incorporate the oranges, being careful they do not break up. Season to taste with salt and pepper.
Transfer the salad to a serving platter or individual soup plates. Grate the ricotta salata over the top. Serve immediately.
Recipe Summary
Main Ingredients: oranges, cherries, raisins, spinach, olives
Course: Appetizer/Starter, Brunch, Dinner, Lunch, Salad, Side Dish, Vegetable
Other Recipes That You Might Like