Basil Pesto Pasta with Tiny Potatoes and Broccoli
From Chef's Table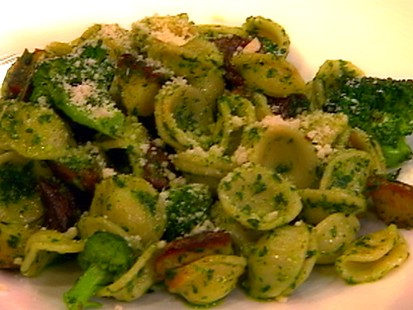 Chef Michael Chiarello sizes things up with Orchietta Pasta and vegetables.
From the kitchen of Michael Chiarello
Michael Chiarello is an award-winning chef, Emmy-winning Food Network host, "Top Chef Masters" finalist, tastemaker behind the NapaStyle retail company, highly rated vintner and noted cookbook author. Throughout his career, Michael has combined his Southern Italian roots with Napa Valley living to pioneer culinary and lifestyle trends.
Michael incorporates his personal passion for seasonal, sustainable living, into all that he does. From the growers that he supports as chef and owner of Bottega Napa Valley and his product designs for NapaStyle, to his earth-friendly farming practices for his vineyards and the storylines for his Emmy-winning Food Network show, Michael shares his unique perspective on what comprises good food and healthy living in an old-world lifestyle.
Based in the Napa Valley, Michael lives among his vineyards with his wife, children and golden retriever.
His book "At Home With Michael Chiarello" is featured.
Ingredients
1 cup basil pesto sauce (see below)
2 cups broccoli florets, small, cooked
3/4 pound marble-size potatoes
2 tablespoons extra virgin olive oil
Gray salt and freshly ground pepper
3/4 pound dried orecchiette or other pasta the same size as potatoes
About 1/2 cup freshly grated Parmesan cheese
For the basil pesto sauce
If your pesto typically turns army green shortly after you make it, you'll appreciate the beauty of this version. I blanch the basil briefly to set the color, and I add a pinch of powdered ascorbic acid (vitamin C), which keeps the pesto from oxidizing.
Serves: 1 Cup
3 cups lightly packed fresh basil
1 cup lightly packed Italian parsley leaves
1/2 cup pure olive oil
1 tablespoon toasted pine nuts
1 teaspoon minced garlic cloves
1/2 teaspoon fine salt
1/4 teaspoon coarsely ground black pepper
1/8 teaspoon powdered ascorbic acid (vitamin C)
1 cup freshly grated Parmesan
Cooking Directions
Put the potatoes in a pan of salted cold water to cover and bring to a boil. Cook until tender, about 10 minutes. Drain and let cool for a few minutes. If the potatoes are larger than about 1/2 inch in diameter, cut in half. Cook the broccoli in salted boiling water until tender, then drain and set aside.
Heat the olive oil in a medium saute pan over medium-high heat until hot. Add the potatoes and cook until browned and crispy all over, about 5 minutes. Season to taste with salt and pepper. Keep warm.
While the potatoes are browning, bring a pot of water to a boil. Add salt and the pasta and cook until al dente, about 12 minutes. Drain through a colander, reserving about 1/2 cup of the pasta cooking water. Pour the pasta into a warm serving bowl, add the potatoes, broccoli, about 1 cup of the basil pesto, several twists of pepper, and 1/4 cup of the Parmesan. Toss well, thinning with the pasta cooking water as necessary.
For the basil pesto sauce
Prepare a bowl of ice water. Bring a large pot of water to a boil. Put the basil and parsley in a sieve and plunge it into the boiling water, pushing the leaves down into the water and stirring them so they blanch evenly. Blanch for 15 seconds, then plunge the herbs into the ice water to stop the cooking. Drain immediately, squeeze the herbs dry, and roughly chop.
In a blender, puree the herbs with the oil, pine nuts, garlic, salt, pepper, and ascorbic acid. When well blended, add the cheese and whir briefly just to mix. Transfer to a bowl and adjust the seasoning. Store the pesto in a small, covered container in the refrigerator for 1 to 2 weeks. Or freeze the pesto for as long as 1 month.
Recipe Summary
Main Ingredients: basil, pasta, potatoes, broccoli florets
Course: Dinner, Main Course, Pasta