Recipe: Emeril's Spicy Pork Stir-Fry With Green Beans
Emeril Kicks Up a Pork Stir-Fry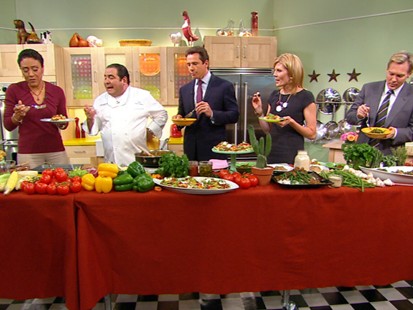 The chef prepares a turkey and pinto bean tostada.
From the kitchen of Emeril Lagasse
"Nowadays, you can easily find fresh, beautiful, washed packaged green beans. Grab 'em and go. Here is a quick and delicious way to serve them!"
-- Emeril Lagasse
Ingredients
3 tablespoons soy sauce
1/4 teaspoon freshly ground white pepper
1 pound ground pork
1/4 cup chicken stock or canned, low-sodium chicken broth
3 1/2 tablespoons hoisin sauce
1/2 teaspoon crushed red pepper
1 tablespoon rice wine vinegar
1/2 teaspoon cornstarch
1/4 cup peanut oil
12 ounces green beans, rinsed, ends trimmed, cut into 4-inch lengths
3 tablespoons thinly sliced garlic
1 1/2 teaspoons dark Asian sesame oil
Cooked white rice, for serving, optional
Cooking Directions
In a mixing bowl, combine 2 tablespoons of the soy sauce, the white pepper, and the ground pork. Mix well to combine, and then set aside.
Make the sauce by combining the chicken stock, hoisin sauce, crushed red pepper, rice vinegar, cornstarch, and the remaining 1 tablespoon soy sauce in a bowl. Set aside.
Heat a wok or saute pan over high heat until hot. Add the peanut oil, and when the oil is smoking, add
the green beans and cook, stirring frequently, until they are slightly wrinkled, 3 to 5 minutes. Using a
slotted spoon, transfer the beans to a paper towel-lined plate, and set aside.
Add the garlic to the wok and cook briefly until fragrant, about 10 seconds. Add the ground pork and
stir-fry until it is no longer pink, about 1 1/2 minutes. Stir the sauce mixture, add it to the wok, and stir to
combine. Bring the liquid to a boil and cook until it begins to thicken, about 45 seconds.
Return the green beans to the wok and drizzle with the sesame oil. Cook briefly until warmed
through. Then serve immediately, over hot rice if desired.
Recipe courtesy Emeril Lagasse, from Emeril 20-40-60, Harper Studio Publishers, New York, 2009, courtesy MSLO, Inc.
Recipe Summary
Main Ingredients: ground pork, soy sauce, hoisin sauce
Course: Dinner, Lunch, Party Platter, Main Course