Recipe: Rachael Ray's Pretzel-Crusted Chicken
Topped With a Cheddar Mustard Sauce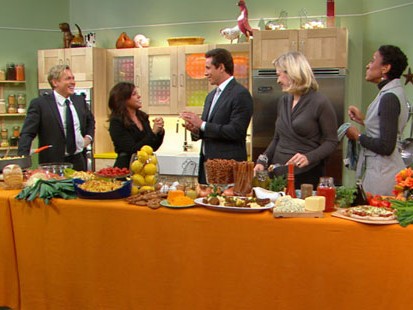 The cook prepares a BLT pasta bake from her latest cookbook.
From the kitchen of Rachael Ray
|
Chicken never tasted so good! This recipe will be sure to make your family happy to gather around the dinner table.
Courtesy of Rachael Ray's Book of 10.
Ingredients
4 medium (quart-size) plastic food storage bags
4 6- to 8-ounce boneless, skinless chicken breast halves
1 5-ounce bag of salted pretzels, any shape
1 tablespoon fresh thyme leaves, chopped
Freshly ground black pepper
2 eggs
Vegetable oil, for frying
2 tablespoons unsalted butter
2 tablespoons all-purpose flour
2 cups milk
2 cups grated extra-sharp
Cheddar cheese
2 heaping tablespoons spicy brown mustard, such as Gulden's
Coarse salt
1/4 cup fresh flat-leaf parsley leaves (a generous handful), chopped
1/4 small yellow onion, finely chopped
1 large sour dill pickle, finely chopped
1 lemon, cut into wedges
Cooking Directions
Sprinkle a little water into the food storage baggies. Place 1 chicken breast in each bag and seal it up, pushing out excess air. Use a mallet or the bottom of a heavy pot or pan and pound each breast until flat, just shy of busting out of the bag. Repeat with the other 3 chicken breasts.
Place the pretzels in a food processor or blender and grind until fine. Transfer the ground pretzels to a shallow dish and add the thyme and some pepper. Crack and beat 2 eggs in a second shallow dish with a splash of water. Working with 1 pounded chicken breast at a time, coat the breast in the ground pretzels, then in the eggs, then in the pretzels again. Preheat a large skillet with 1/4 inch of vegetable oil; add the pretzel-coated chicken breasts to the hot oil. Cook in a single layer, in 2 batches if necessary, about 3 or 4 minutes on each side, until the cutlets' juices run clear and the breading is evenly browned.
While the chicken is frying, in a medium sauce pot over medium heat, melt the butter and add the flour to it. Cook for 1 minute, then whisk in the milk. When the milk comes to a bubble, stir in the cheese and mustard with a wooden spoon. Season with a little salt and pepper and remove the cheese sauce from the heat.
Transfer the fried pretzel-crusted chicken breasts to serving plates, drizzle with the cheddar-mustard sauce, and then sprinkle with a little parsley, finely chopped onions, and finely chopped pickles. Serve immediately, with lemon wedges alongside.
Courtesy of Rachael Ray's Book of 10.
Other Recipes That You Might Like