Recipe: Sandra Lee's Candy Corn Cookies
Just in Time for Halloween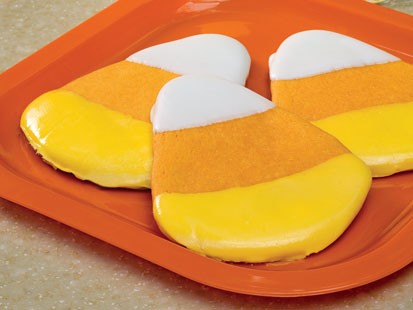 From the kitchen of Sandra Lee
Ingredients
2 (17.5-ounce) packages sugar cookie mix, Betty Crocker®
1 cup unsalted butter, softened
2 large eggs
Orange food coloring
1 (16-ounce) package vanilla candy coating
1 (14-ounce) package yellow candy melts, Wilton®
Cooking Directions
In a large bowl, beat cookie mix, butter, and eggs at medium speed with an electric mixer until well combined. Gradually tint dough with food coloring to achieve desired color. Cover dough, and chill 1 hour.
Preheat oven to 375°. Line 2 baking sheets with parchment paper.
On a lightly floured surface, roll dough to 1/4-inch thickness. Cut with a 4 1/2 x 3 1/4-inch candy corn-shaped cutter, re-rolling scraps as necessary. Place cookies 2 to 3 inches apart on baking sheets, and bake 8 to 10 minutes, or until edges are very lightly browned. Let cool on pan for 2 minutes. Remove to wire racks to cool completely. Place cooled cookies in an airtight container, and freeze 8 hours or overnight.
Line 2 baking sheets with wax paper or aluminum foil, and top with wire racks. In 2 separate medium microwave-safe bowls, melt vanilla candy coating and yellow candy melts according to package directions. Dip one end of cookies into melted vanilla candy coating. Dip other ends of cookies into yellow candy melts. Place on prepared wire racks to drain. Let stand until candy coating and candy melts are firm.
Makes about 1 1/2 dozen cookies
*Reprinted with permission by Hoffman Media, LLC www.semihomemademag.com
Recipe Summary
Main Ingredients: food coloring, vanilla candy, sugar cookie mix
Course: Dessert, Cookies, Snack
More Info: Kid Friendly