Recipe: Rocco's Chicken and Chorizo Stew with Mustard Greens
Hearty, Easy Cold Weather Stew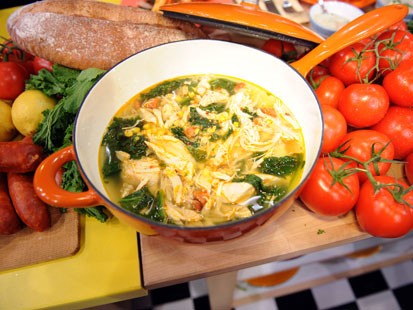 From the kitchen of Rocco DiSpirito
"Chorizo is a spicy Spanish pork sausage that perfumes whatever it touches with the unique blend of spices -- including chili, paprika and garlic -- that makes a chorizo a chorizo."
-- Rocco DiSpirito
CLICK HERE to follow Rocco and ask him questions on Twitter!
Ingredients
2 tablespoons Bertolli® extra-virgin olive oil
1 6-ounce link chorizo, cut into a small dice
3 tablespoons Amore® garlic paste, or 9 cloves garlic, chopped
Salt and freshly ground pepper
5 cups cleaned, chopped mustard greens
1 teaspoon crushed red pepper
2 14.5-ounce cans Swanson Low-Sodium Chicken Broth
1 cup frozen corn kernels
1 1 1/2-pound warm rotisserie chicken, torn into chunks
Cooking Directions
Heat olive oil in a large saucepan over medium heat. When oil is hot, add chorizo and cook until fat starts to render, about 2 minutes.
Stir in garlic paste and cook, stirring, for about 1 more minute. Turn heat up to high and add mustard greens; season to taste with salt and pepper. Cover and cook until greens are wilted and tender, about 4 minutes.
Add red pepper, chicken broth, and corn. Bring to a simmer. Add chicken. Season to taste with salt and pepper and serve.
Courtesy Rocco Gets Real @2008.
Recipe Summary
Main Ingredients: chicken, chorizo, garlic, mustard greens, corn
Course: Dinner, Brunch, Lunch, Main Course