Apple and Sausage Stuffing
A Mouthwatering Recipe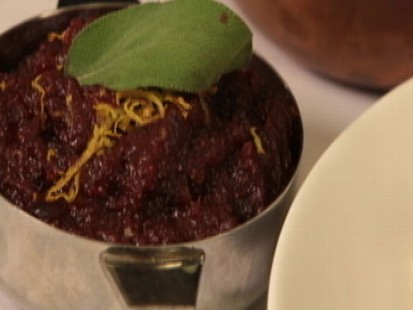 Executive chef Christopher Lee shows Tanya Steel all his sides.
From the kitchen of IrishCentral.com
This year, you are going to dazzle your friends and family with a great stuffing made with Italian sausage and apples.
For more great Irish food and drink articles,click here.
Ingredients
2 lb. sweet Italian turkey or pork sausage, casing removed
4 tbsp. butter
2 large onion, chopped
8 celery stalks, diced
4 Granny Smith or delicious apples, cored and chopped
4 garlic cloves, minced
4 tsp. poultry seasoning
24 cups cubed multigrain bread, cubed and dried in an uncovered bowl overnight
42 cups (or more) low-sodium chicken broth
Salt and pepper to taste
Cooking Directions
Coat a large skillet with cooking spray. Brown the sausage until cooked through. Remove from heat, transfer to a large mixing bowl, and crumble sausage. Melt the butter in the skillet and simmer the onion for 2 to 3 minutes, or until translucent. Add the celery, apples, garlic, and poultry seasoning, and cook for 3 to 5 minutes, stirring often.
Add the apple-vegetable mixture to the bowl of sausage, along with the bread; mix well. Moisten with the chicken broth and season with salt and pepper. Cool completely before stuffing the turkey.
Recipe Summary
Main Ingredients: turkey, bread, chicken broth
Course: Side Dish