Creamy Pumpkin Soup
Pumpkin Soup Never Tasted So Good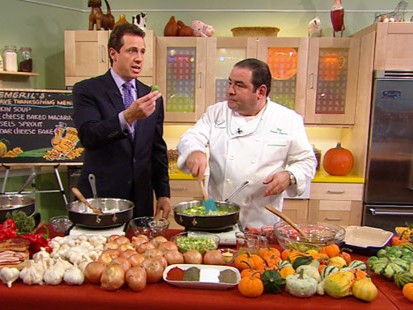 The chef prepares pumpkin soup, macaroni and brussel sprouts.
From the kitchen of Emeril Lagasse
This creamy pumpkin soup is bound to be delicious for your holiday meal.
Ingredients
2 tablespoons canola or other mild-flavored vegetable oil
1 medium onion, coarsely chopped
4 cups homemade or low-sodium store-bought chicken or vegetable stock, plus more if needed
4 cups roasted pumpkin cubes (from about 2 pounds of raw pumpkin)
3 (about 3 1/2 pounds) sweet potatoes or jewel yams, peeled and cut into 1-inch cubes
1(15-ounce) jar whole peeled chestnuts, optional
1 1/2 teaspoons salt
3/4 teaspoons freshly ground white pepper
1/2 teaspoon ground ginger
1/4 teaspoon ground allspice
1/4 teaspoon ground nutmeg
Coarse salt and freshly ground pepper
1 1/2 cups half and half or milk, or more as needed
Roasted Pumpkin seeds, for garnish, optional
Cooking Directions
Heat the oil in a large saucepan over medium heat. Add onions and cook, stirring, until translucent, about 5 minutes. Stir in the stock, pumpkin, sweet potatoes, chestnuts (if using), salt, pepper and spices; simmer over medium heat until vegetables are tender, about 45 minutes. Let cool slightly, then add the half and half.
In batches, process mixture in a food processor or blender until very smooth (if soup is too thick, gradually add more half and half as needed). Adjust seasoning if necessary. Just before serving, garnish with pumpkin seeds, if desired.
Yield: 6 to 8 servings
Recipe courtesy Emeril Lagasse, courtesy Martha Stewart Living Omnimedia, Inc.
Recipe Summary
Main Ingredients: pumpkins, sweet potatoes
Course: Soup, Appetizer/Starter, Party Platter