Bacon and Green Onion Cornbread Dressing
You Say Stuffing, I Say Dressing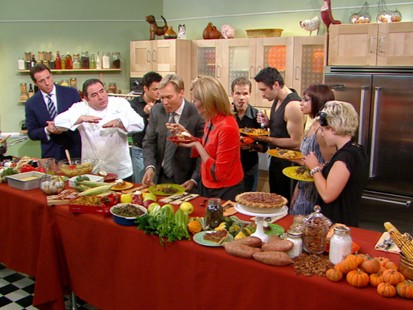 Chef Emeril Lagasse prepares his must-have Thanksgiving menu.
From the kitchen of Emeril Lagasse
Whether you say stuffing or dressing, this is bound to be a hit at your Thanksgiving dinner table.
Ingredients
1 tablespoon softened butter
8 ounces bacon, cut into 1/2-inch pieces
1 cup chopped onion
3/4 cup chopped red bell pepper
1 teaspoon dried thyme
1/4 teaspoon cayenne
1/2 teaspoon freshly ground black pepper
1/2 teaspoon salt
1 tablespoon minced garlic
1 cup thinly sliced green onion
1/4 cup chopped fresh parsley
4 1/2 cups chicken stock or canned low-sodium chicken broth
2 eggs
One recipe Cornbread or 8 cups coarsely crumbled cornbread
Cooking Directions
Preheat the oven to 400°F.
Butter a 3-quart baking dish with the softened butter.
Add the chopped bacon to a 10-inch skillet and set over medium high heat. Cook the bacon, stirring as needed, for 5 minutes until crispy and fat is rendered. Drain all but 1 tablespoon bacon fat from the pan and reserve. Return the pan of bacon to the heat.
Add the onion, pepper, thyme, cayenne, black pepper, and salt to the bacon. Continue to cook, stirring as needed, for 5 minutes until the vegetables are soft. Add the garlic, and cook for 30 seconds longer. Remove the pan from the heat. Stir in the green onion and parsley.
In a small bowl whisk together the chicken stock and eggs.
Add the crumbled cornbread to a large mixing bowl. Add the vegetables and chicken stock mixture and stir to combine thoroughly. Transfer to the prepared baking pan.
Drizzle 1 tablespoon of the reserved bacon fat over the top. Grease a sheet of foil large enough to cover the dressing with 1 tablespoon of the reserved bacon fat and place over the dressing. Bake in the oven for 25 minutes. Remove the foil and bake 15 minutes longer, or until the top is crispy to the touch and the interior of the dressing remains moist. Remove from the oven and set aside. Cover to keep warm until ready to serve.
Yield: 8 to 10 servings
Recipe courtesy Emeril Lagasse, courtesy Martha Stewart Living Omnimedia, Inc.
Recipe Summary
Main Ingredients: cornbread, bacon, green onions
Course: Side Dish, Party Platter