Sweet Potato Pecan Pie
A Sweet Finish to Your Holiday Feast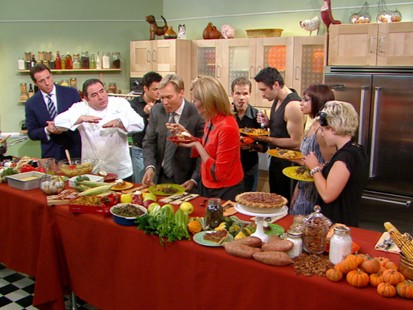 Chef Emeril Lagasse prepares his must-have Thanksgiving menu.
From the kitchen of Emeril Lagasse
After the turkey, cranberry sauce, stuffing, and vegetables, this recipe for sweet potato pecan pie is a perfect way to end a meal.
Ingredients
1 prepared Sweet Pie Crust
4 large eggs plus 1 egg white
1 pound sweet potatoes, baked until fork tender, peeled and mashed
1/4 cup pure cane syrup (recommended: Steen's) or unsulphured molasses
1 teaspoon ground cinnamon
1/2 teaspoon ground ginger
1/2 teaspoon freshly grated nutmeg
1 1/2 teaspoons pure vanilla extract
1 1/2 cups pecan pieces
1/2 cup granulated sugar
1/2 cup firmly packed light brown sugar
1 cup light corn syrup
Pinch salt
Sweetened whipped cream, accompaniment, optional
Cooking Directions
Roll the pie dough to a thickness of 1/8-inch and, working carefully, fit the rolled dough into a 10-inch pie pan. Crimp the edges decoratively and then refrigerate the shell, lightly covered, for at least 1 hour and up to overnight before proceeding.
Preheat oven to 400 degrees F.
Lightly coat a piece of wax or parchment paper with cooking spray on one side and position, greased side down, on top of the chilled pie crust.
Fill the pie with pie weights (dried rice or beans works fine) and blind bake the crust until it turns opaque, 10 to 12 minutes.
Remove the weights and parchment paper and, using a pastry brush, immediately brush with the egg white. Set aside until ready to use.
Reduce the temperature to 375 degrees F.
In a large mixing bowl, combine the mashed sweet potatoes, cane syrup, spices, 1 egg, and 1/2 teaspoon of the vanilla and mix well. Pour the filling into the baked pastry shell.
Spread the pecan pieces evenly over the filling.
In another large bowl, beat the remaining 3 eggs. Add the remaining 1 teaspoon vanilla, granulated sugar, brown sugar, corn syrup, and salt and stir to blend.
Pour over the pecans and bake until the filling is set and the pastry is golden brown, about 1 hour.
Remove from the oven and cool on a wire rack for 1 hour before serving. Garnish with whipped cream if desired.
Recipe courtesy Emeril Lagasse, courtesy Martha Stewart Living Omnimedia, Inc.
Recipe Summary
Main Ingredients: sweet potatoes, pecans
Course: Dessert