Apple-Pecan Bread Pudding
Slow Cooker Bread Pudding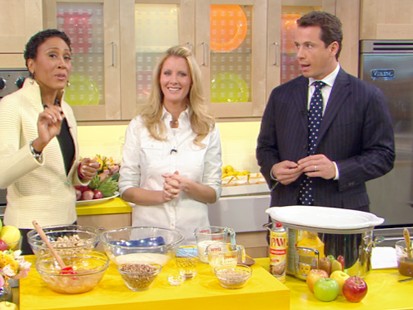 Sandra Lee prepares recipes from "Money Saving Slow Cooking."
From the kitchen of Sandra Lee
|
This apple-pecan bread pudding is easy to make and easy to cook. Just follow the recipe and put it in the slow cooker and walk away. Then a few hours later, you will have a delicious dessert.
Ingredients
Canola oil cooking spray, PAM
1 loaf (16-ounce) cinnamon bread, cut into 1-inch cubes
1 can (21-ounce) apple pie filling
1 1/2 cups chopped pecans
1 can (12-ounce) evaporated milk
1 1/2 cups half & half
3/4 cup egg beaters
3/4 cup packed brown sugar
1/2 teaspoon ground allspice
Pinch salt
2 tablespoons butter, cut into tiny pieces
3/4 cup caramel topping
2 tablespoons bourbon
Whipped dessert topping, thawed (optional)
Cooking Directions
Prep 15 minutes
Coat a 5-quart slow cooker with cooking spray. In a large bowl, stir together bread, pie filling, and pecans until combined.
In a medium bowl, whisk together evaporated milk, cream, egg beaters, brown sugar, allspice, and salt until combined. Pour over bread mixture; stir gently until bread is saturated. Pour into slow cooker and dot with butter.
Cover and cook on Low heat setting for 3 to 4 hours.
In a small microwave-safe bowl, stir together caramel topping and bourbon. Cover and microwave on High setting (100 percent power) for 1 to 2 minutes or until warm. Serve bread pudding topped with caramel-bourbon sauce.
Recipe excerpted from Sandra Lee Semi-Homemade Money-Saving Slow Cooking Copyright © 2009 Sandra Lee Semi-Homemade
Please click here for more information about Champions Against Child Hunger.
Other Recipes That You Might Like