Street Sweets' Macarella Cookies
A Tasty Twist on the Coconut Macaroon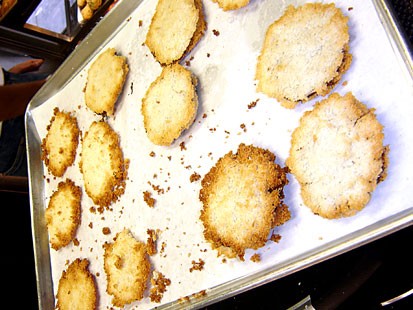 From the kitchen of Street Sweets of New York, N.Y.
Street Sweets is one of the four finalists in the Best Food Cart Challenge held by "Good Morning America Weekend." Highlighting the menu are European-inspired create-your-own croissants filled with a choice of luscious pastry creams such as mocha, praline, vanilla, chocolate, honey and nut butters. Husband-and-wife owners Grant and Samira are most proud of their macarella – a thin coconut macaroon oozing with a Nutella explosion.
Ingredients
2 cups shredded coconut (desiccated and unsweetened)
1 cup granulated sugar
2 egg whites, slightly beaten
1 teaspoon vanilla extract
Nutella
Cooking Directions
Preheat oven to 350 degrees.
Mix all ingredients, except Nutella, together in a bowl, until the consistency is soft and pliable.
Line a cookie sheet with parchment paper. Take 1-2 heaping tablespoons of the dough and place on cookie sheet and shape into a flat 3 inch circle, about 1/8 inch thick. Continue making circles until dough is finished. You should try to have an even number of circles since these will be sandwiched together.
Bake for 10 minutes or until edges are golden. Let cool for 10 minutes.
Lift cookie off of cookie sheet and on flat, bottom side of cookie spread a substantial amount of Nutella. Take another cookie and place bottom side on top of cookie with Nutella filling to make a sandwich. Continue making sandwiches until all cookies are used.
Makes approximately 10 sandwich cookies.
Recipe Summary
Main Ingredients: shredded coconut, sugar, nutella
Course: Cookies