Marination Mobile's Spicy Pork Taco
This Delicious Dish Fuses Korean and Hawaiian Flavors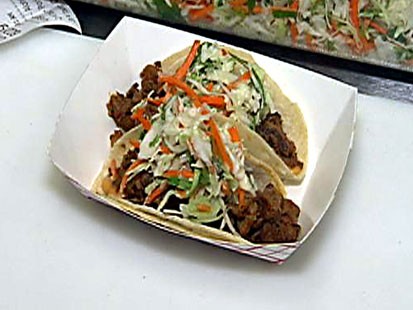 From the kitchen of Marination Mobile of Seattle, Wa.
Marination Mobile is one of the four finalists in the Best Food Cart Challenge held by "Good Morning America Weekend." Dubbed Seattle's sauciest food truck, Marination Mobile specializes in Hawaiian and Korean curb cuisine.
Co-owner Kamala Saxton and Roz Edison's signature item: the spicy pork taco - a progressive version of a classic Korean bulgogi. Two warm corn tortillas stuffed with luscious red pepper spiced pork and topped with their saucy, tangy, crunchy signature slaw leaves.
Ingredients
For Spicy Pork:
2 pounds pork butt, partially frozen and trimmed
1 1/2 cups spicy pork marinade
For Slaw:
1/4 head green cabbage, chiffonade
1 cup carrots, julienned
1 bunch cilantro, roughly chopped
6 green onions, cut 1/8 inch thick
1 cup pickled ginger vinaigrette
kosher salt, to taste
For Tacos:
1/4 cup canola oil
8 ounces sliced white onions, julienned
2 ounces raw jalapeno, sliced
2 tablespoons pure sesame oil
2 tablespoons sugar syrup
3/4 cup Marination Mobile's nunya sauce (spicy red chili paste can be used)
3 limes, cut into 24 wedges
3/4 cup pickled jalapenos
1/4 cup seasme seeds
48 corn tortillas
Cooking Directions
Marinate Spicy Pork
Slice partially frozen pork butt as thinly as possible. Add spicy pork marinade, mixing well by hand and making sure all pieces get coated. Allow pork to marinate for 36-48 hours before cooking.
Prepare Slaw
Slice green cabbage very thinly. Add matchstick carrots, cilantro, green onions and toss together thoroughly. Add vinaigrette and kosher salt, to taste, just before serving.
Cooking Pork
Heat flat top skillet on medium to medium-high heat. Spread canola oil over flat top. Once skillet is hot, add onion and cook to soften, about 2 minutes. Add raw jalapenos and stir into onions. Break up the sliced pork and spread over the top of the onion mixture. Drizzle sesame oil over the top of the pork and mix together with the onions and jalapenos.
Continue mixing pork periodically until it is cooked through. Be sure to break up the pork while cooking so that there are no large chunks. Drizzle the sugar syrup over the pork and mix together to cook sugar into pork. Be careful to do this quickly or the sugar will burn.
Spicy pork should be a deep red color. Transfer to serving dish and hold for service.
Taco Assembly
No more than 30 minutes before assembly, add the pickled ginger vinaigrette and kosher salt to slaw. Heat corn tortillas on flat top. For each taco, place 2 corn tortillas on a plate. Put 1 1/2 teaspoons of nunya sauce or spicy red chili paste down the middle of the two torillas. Add about 1.25 ounces of the cooked spicy pork. Place about 1 ounce of dressed slaw on top of pork. Put one lime wedge in the corner. Put a pinch of pickled jalapenos in the opposite corner. Sprinkle sesame seeds on top. Serve and enjoy. Makes 24 tacos.
Recipe Summary
Main Ingredients: pork, spicy pork marinade, green cabbage