Sara Moulton's Pan Gravy
Don't Let Your Turkey Go Naked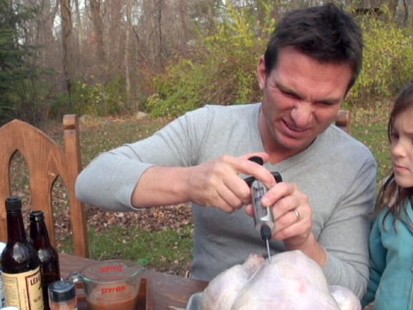 Bill Weir cooks a crispy bird with a deep fryer and a dash of humor.
From the kitchen of Sara Moulton
I recommend making 1/2 cup gravy per person since it is Thanksgiving. You need that much gravy to pour over everything, and for leftovers. So here is the formula.
Ingredients
1 cup turkey broth or chicken broth
1 1/2 tablespoons drippings, fat or butter
1 1/2 tablespoons flour (preferably the instant kind, Wondra, which Granny favored because it didn't cause lumps in the gravy)
Here is a sample recipe for 4 cups gravy serving 8 people:
6 tablespoons fat from drippings in roasting pan, and/or butter or a combination
6 level tablespoons flour
4 cups turkey or chicken broth
Cooking Directions
After you have taken your turkey out of the oven, transfer it to a platter and cover it loosely with foil. While it is resting put the roasting pan on the stove. Transfer whatever liquid is in the roasting pan to a glass measuring cup and let it settle. The fat will float to the top. Skim off the fat and measure it. (Save the liquid as well to add later)
If you have 6 tablespoons fat, add them back to the pan. If you don't have that much, add whatever fat plus enough tablespoons of butter to make 6 tablespoons fat total. Heat the pan over low heat and whisk in the flour. Cook, whisking for 5 minutes.
Add the broth in a steady stream, whisking. Turn up the heat to moderately high, bring the mixture to a boil and simmer, whisking for 5 minutes. Whisk in any juices from the turkey resting platter as well as from the glass measuring cup. If the gravy seems thin, simmer it a few minutes. Taste and add salt and pepper if desired.
Note: You could substitute 1/2 cup white or red wine for 1/2 cup of the broth.
Recipe Summary
Main Ingredients: turkey or chicken broth, drippings, flour
Course: Sauces and marinades