San Antonio's Tasty Tamaladas
A Sweet Take on a Hispanic Family Tradition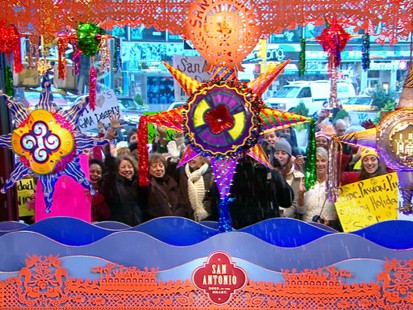 The first window celebrates San Antonio, Texas, and the Alamo.
From the kitchen of Diana Barrios Trevino
"Good Morning America" chose the city of San Antonio, Texas, to decorate a holiday window.
On the show, "GMA" featured the preparation of tamaladas. Tamaladas - or tamales - are a tasty Hispanic family tradition in San Antonio.
This recipe from Diana Barrios Trevino -- who owns Los Barrios Mexican restaurant and La Hacienda de Los Barrios, both in San Antonio -- gives us a sweet take on the staple.
Ingredients
2 packages corn shucks (or corn husks)
5 pounds fresh masa
3 teaspoons baking powder
3 cups vegetable lard
1 cup hot water
3 cups sugar
2 cups raisins
3 cups shredded coconut
Cooking Directions
Soak the shucks in a large pot of hot water for at least one hour.
Place the masa in a large bowl and add baking powder, lard, water and sugar, and mix thoroughly.
Knead the masa until it is of the consistency of thick peanut butter, then add raisins and coconut. Cover the mixture with a large dish towel and let it rest for 15 minutes.
Carefully separate the corn husks after they have softened. Place them on a clean counter or on a clean dish towel. Feel the two sides of the shuck; one side should be soft and the other has ridges.
Take a husk and lay it across the palm of your hand with the small end towards your fingers. Using a spatula, take about 1/2 cup of the masa and smear it onto the shuck.
Cover the bottom 2/3 of the shuck with the masa from edge to edge, and leave the top 1/3 uncovered. Fold the tamale in half, lengthwise and then in half again, and fold down the top to seal.
Repeat until you have used up all of the shucks and masa.
To cook the tamales, use a very large pot that has a steamer basket. If you don't have a pot with a steamer basket, make a foil ball against which you can stack the tamales (like you would stack the wood for a bonfire.)
Add about 2 quarts of water to the pot and then start stacking the tamales upright with the open end of the tamale facing up. The tamales are to be steamed, so they should not be touching the water.
Fill the pot and pack the tamales tightly so that they do not fall apart while they are cooking. Cover the pot and cook the tamales for about 1 hour on high heat.
Check the water levels periodically and add more water if necessary. When you are checking the tamales, remove the pot's lid carefully so you don't get burned by the steam.
Remove the tamales from the pot and allow them to cool before refrigerating or freezing.
Recipe courtesy Diana Barrios Trevino.
Recipe Summary
Main Ingredients: masa, sugar, raisins, coconut
Course: Brunch, Breakfast, Dessert