Spiced Orange Tea
A Perfect Cup of Tea on a Cold Morning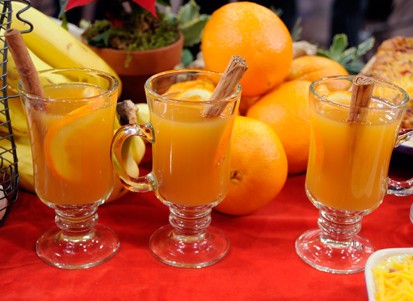 From the kitchen of Emeril Lagasse
|
What better way to warm up than with a cup of hot tea. Emeril's spiced orange tea will warm you right up.
Ingredients
Thinly peeled strips of orange peel, about 1/2-inch wide, from 1 orange
3 cups freshly squeezed orange juice, about 6 large oranges
3 cups water
2 tablespoons freshly squeezed lemon juice
1 small toe of fresh ginger, 1/2 ounce, sliced into 1/4-inch slices
1 teaspoon whole cloves
1/2 teaspoon ground cinnamon
Pinch of salt
3 Orange Pekoe teabags
1/2 cup sugar
Cooking Directions
In small pot combine the orange peel, orange juice, water, lemon juice, ginger, cloves, cinnamon and salt. Bring to a boil, reduce heat, and simmer for 5 minutes. Remove pot from the heat. Add the tea bags and let steep for 5 minutes. Add the sugar and stir to dissolve. Strain the tea through a fine mesh sieve set over another pot or into a warmed tea pot. Serve hot.
Yield: 6 cups, 6 to 8 servings
Recipe courtesy Emeril Lagasse, courtesy MSLO, Inc.
Other Recipes That You Might Like