Mini Grilled Cubanos
New Year's Day Football Food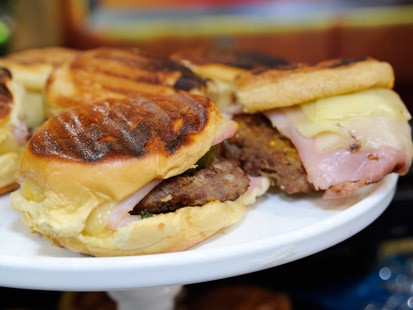 From the kitchen of Todd English
It is the first day of the new year and what better way than to spend the day watching football with some good food.
Ingredients
For sandwich:
12 small soft potato rolls, mini brioche rolls or Cuban bread cut small/bite-sized
12 slices thin Swiss cheese, cut to fit bread size
36 slices thin pickles, cut round
12 1.5-oz fresh sausage patty, fully cooked
12 slices thin cut high quality ham, cut to fit bread size
12 slices thin cut fresh roasted pork tenderloin, cut to fit bread size
1 cup spicy mayo
Butter to brush breads for panini machine or grill
Marinade for pork tenderloin
5 cloves garlic
Salt and pepper, to taste
3/4 cup lime juice
1 cup orange juice (or sour orange)
1/4 cup minced onion
2 tsp. chopped fresh oregano
1/4 cup extra virgin olive oil
Spicy mayo:
1 cup mayo
1 tbsp. sricacha
2 tsp. dijon
Dash of fresh lemon
Cooking Directions
Method for pork:
Mash garlic with back of knife to make a paste.
Add all liquid ingredients and stir, then add all remaining ingredients.
Method for assembling sandwich:
Spread each roll top and bottom with spicy mayo.
Place one cooked patty on bottom piece of roll followed by slice of ham, slice of swiss, slice of roast pork, pickles and top of roll.
Place in a grill pan or panini grill. Cook until cheese is melted and bread is toasted. About 4-5 minutes
Recipe Summary
Main Ingredients: pork, ham, cheese, bread, pickles
Course: Appetizer/Starter, Party Platter