Todd's Chicken in a Bag
Perfect New Year's Day Football Food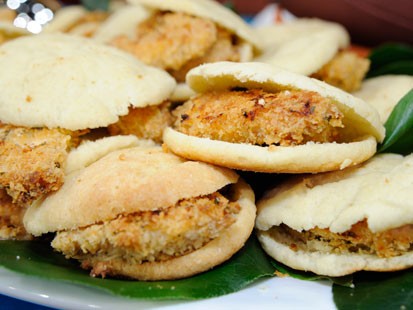 From the kitchen of Todd English
It is the first day of the new year and what better way than to spend the day watching football with some good food.
Ingredients
24 each 1.5 oz. chicken tender pieces cut from boneless breast
2 cups flour
2 cups mayo
2 cups buttermilk
2 teaspoons butcher cracked black pepper
2 cups panko breadcrumbs
1 tablespoon chopped parsley
1 tablespoon grated parmesan
1 tablespoon cayenne pepper
Salt
Cooking Directions
Set up three shallow bowls. In the first bowl, put buttermilk infused with cracked black pepper. In the second, AP flour. In the third bowl, place Hellman's mayo.In a bag add panko bread crumbs mixed with parsley, cheese and cayenne.
Begin by soaking chicken tenders in the buttermilk-pepper mixture for up to 6 hours. Remove from mixture, add the flour a light coating. Then roll each tender in the mayo or use a brush to coat each piece. Toss the tenders in bag with panko mixture and shake until coated.
Lay on a baking tray and bake in a 400 degree oven for 12-15 minutes until cooked thru.
Serves 12
Recipe Summary
Main Ingredients: chicken, mayo, bread crumbs
Course: Appetizer/Starter, Party Platter