Fruit Bruschetta
Tastes Wonderful With Coffee or a Latte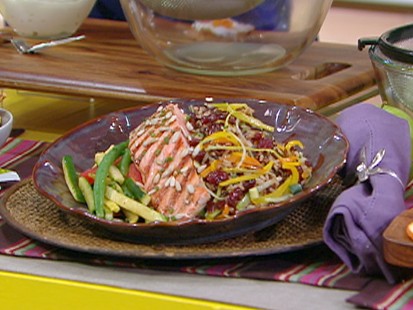 A fruit bruschetta with yogurt cheese recipe from the "Eat-Clean Diet Cookbook."
From the kitchen of Eat-Clean Diet Series
Fruit bruschetta is as delicious for breakfast as it is for dessert! The ingredients, although simple and inexpensive, come together beautifully.Somehow everything just tastes better with bread.
Ingredients
1/2 cup / 120 ml low-fat cottage cheese or yogurt cheese
1 whole-grain baguette, sliced on the diagonal into 1/2-inch pieces
1/2 cup / 120 ml sliced fresh strawberries
1/2 cup / 120 ml fresh blueberries
1/2 cup / 120 ml fresh raspberries
1 tin mandarin orange slices in their own juice, drained, juice reserved
For the yogurt cheese
Place 4 layers of damp cheesecloth in a fine mesh sieve or colander. Place the colander over a bowl. Pour in 2 quarts of low-fat plain yogurt, dairy or soy-based product. Let it drain overnight in the refrigerator.
Note: Yogurt cheese must be made the day before!
Cooking Directions
Preheat oven to 400°F / 200°C. Prepare a baking sheet by lining it with parchment paper. Arrange slices of baguette on the baking sheet and toast the bread. Mix cottage cheese or yogurt cheese with 2 tbsp / 30 ml of the mandarin
juice. If using cottage cheese, mash well to make smoother. Once the bread has toasted nicely, spread the cottage cheese or yogurt cheese on top of the hot toast. Arrange toast on a serving platter, set strawberry slices on top and then distribute the rest of the fruit on top of the strawberries.
Yield: 20 slices
Recipe Summary
Main Ingredients: raspberries, blueberries, strawberries, mandarin oranges, baguette
Course: Breakfast, Brunch, Dessert, Party Platter