Apple & Chorizo Smothered Pork Chops
An 'Iron Chef' Inspired Dish Built Around Apples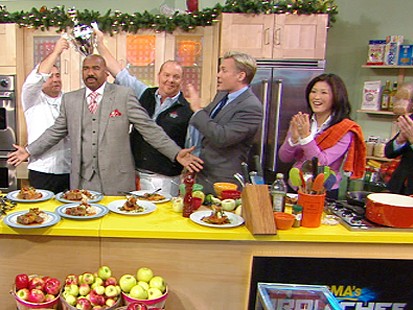 The two famous chefs reveal their final dishes using secret ingredient, apples.
From the kitchen of EMERIL LAGASSE
Ingredients
3 tbsp. olive oil
1 tsp. Emeril's Essence spice mixture (Click Here for recipe)
salt and pepper
5 center-cut pork chops with bone in, about 1 inch thick each
2 medium yellow onions, sliced thinly
8 small cloves of garlic, peeled
1 lb. Spanish chorizo, sliced
1 cup chicken stock
1 cup apple cider
2 Tbsps. flour
3 scallions, green parts only, sliced thinly on the bias
Cooking Directions
Pat pork chops dry with paper towels and sprinkle both sides evenly with salt, pepper, and Emeril's Essence.
Meanwhile, heat olive oil in a large saute pan over high, until oil is shimmering. Add chops to the pan and brown for about 5 minutes. Turn chops over and add onions, garlic, and chorizo. Saute for about 5 minutes longer. Add chicken stock and apple cider.
Reduce heat, cover the sauté pan and let simmer for 8–10 minutes (or until an instant-read thermometer inserted into the thickest part of the chops reads 160 degrees F). Using tongs, remove chops from the pan and let rest on a plate. Add flour to the cooking liquid and stir vigorously with a wire whisk.
Cook sauce until thickened, about 2 to 3 minutes. Return chops to the pan until heated through. Sprinkle with scallions for garnish.
Recipe Summary
Main Ingredients: pork chops, apples
Course: Dinner, Main Course