Pulled Pork Sandwich Platter
Served with Red Cabbage Slaw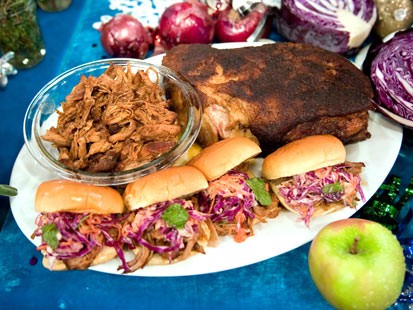 From the kitchen of Spike Mendelsohn
New Year's Eve gatherings often include a nice spread of food and this recipe for a pulled pork sandwich platter is perfect for your guests, who will be eating throughout the night waiting to ring in the new year. It is served with a red cabbage slaw. Get more of Spike's great recipes from his new book, "The Good Stuff Cookbook," including his toasted marshmellow shake.
Ingredients
1 whole Boston Butt (a cut of pork from the upper part of the shoulder)
Dry Rub (or any pre-made, store-bought pork rub)
1 tsp. cinnamon
1 tbsp. ground cumin
1 tbsp. garlic powder
1 tbsp. smoky paprika
1 tbsp. chili powder
1 tbsp. cayenne pepper
1 tbsp. salt
1 tbsp. ground pepper
1 tbsp. paprika
1/2 cup brown sugar
Cooking Directions
Place pork butt in baking pan that is bigger than the shoulder by at least a inch in length and width and at least 3 inches deep.
Sprinkle dry rub onto the surface of the shoulder and massage in such that it adheres to the surface. Coat all sides.
Make sure the fat layer on the shoulder is facing up before cooking! Place baking pan uncovered in a 225 degree oven on the middle rack. Cook for four hours.
When cooked all the way through pull meat apart using forks and serve on potato buns with red cabbage slaw (CLICK HERE for slaw recipe).
Recipe Summary
Main Ingredients: pork, dry rub, brown sugar
Course: Dinner, Party Platter