Red Velvet Brownies
Too Delicious To Have Just One!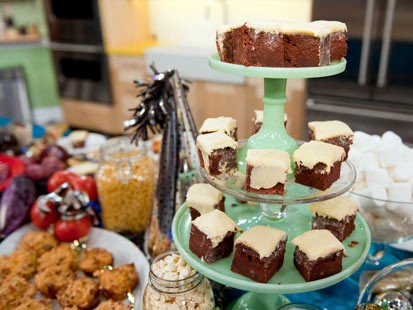 From the kitchen of Spike Mendelsohn
Red velvet brownies are a decadent treat to ring in the new year! Get more of Spike's great recipes from his new book, "The Good Stuff Cookbook," including his toasted marshmellow shake.
Ingredients
2 1/2 cups flour
2 tablespoons cocoa powder
1 t baking powder
1/2 teaspoon salt
1 cup semi sweet chocolate chips
3 large eggs
7 ounces-unsalted butter
1 cup confectioner's sugar
1 cup buttermilk
2 tbsp. red food coloring
1 tsp. white vinegar
1 tsp. baking soda
1 tsp. vanilla extract
Cooking Directions
Preheat oven to 325F.
Butter and flour a 9-inch square baking pan.
To make the brownies, combine flour, cocoa, baking powder and salt in the top of a double boiler over boiling water.
Add the chocolate chips and cook; stirring until the chocolate melts and the mixture is smooth. Remove and let cool for 10 minutes.
In a large bowl combine the eggs, butter and ½ cup of water. Add the confectioner's sugar, buttermilk, food coloring, vinegar, baking soda and vanilla. Beat the mixture with an electric mixer until smooth. Stir in the chocolate mixture. Pour the mixture into the prepared pan.
Bake for 40 minutes or until the top is stand a knife is inserted in the center comes out clean. Remove from the oven and set the pan on a rack to cool.
When the brownies are cool spread the frosting over the top (CLICK HERE for the frosting recipe).
Recipe Summary
Main Ingredients: chocolate, red food coloring, frosting
Course: Dessert