Emeril's Broccoli & Cheese Soup
A Hearty, Tasty, Easy Soup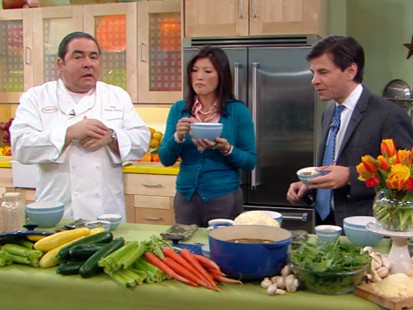 The chef prepares a broccoli and cheddar soup from his newest cookbook.
From the kitchen of Emeril Lagasse
"This classic combination of flavors lends itself well to this simple, creamy soup. By cooking the broccoli just right, the soup retains a vibrant bright green color. Serve this as a starter to any meal or with a sandwich or salad for a complete meal. So good for you, too."
--Emeril Lagasse
Ingredients
2 tablespoons olive oil
1 1/2 cups thinly sliced yellow onions
1 tablespoon sliced garlic
1 teaspoon salt
1/4 teaspoon cayenne pepper
5 cups chicken stock or canned, low-sodium chicken broth
4 cups broccoli florets
1 1/2 cups (6 ounces) shredded medium sharp cheddar cheese
Simple Croutons, for garnish (optional)
Cooking Directions
Heat the olive oil in a 6-quart stockpot over medium heat. When it is hot, add the onions, garlic, salt, and cayenne pepper. Saute until the onions are soft and translucent, 4 to 5 minutes.
Add the chicken stock and bring to a boil. Once the stock is boiling, add the broccoli and cook until fork-tender, about 5 minutes.
Remove the soup from the heat and let it cool slightly. Then puree the soup, in batches, in a blender, adding the cheese in three additions while blending (see Note). Adjust the seasoning if necessary, garnish with croutons if desired, and serve hot.
Note: Please use caution when blending hot liquids; blend only small amounts at a time, with the blender tightly covered and a kitchen towel held over the top.
Yield: 1 1/2 quarts, 4 to 6 servings
Recipe Summary
Main Ingredients: broccoli, cheese
Course: Appetizer/Starter, Dinner, Soup