Emeril's Chicken and Rice Soup
Soup for the Winter Soul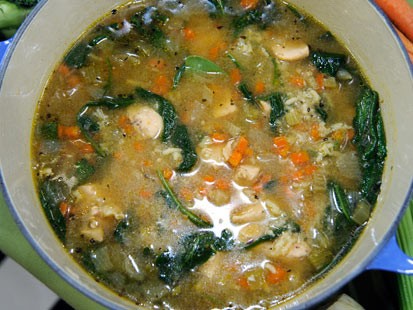 From the kitchen of Emeril Lagasse
|
"I think most of us are reminded of our childhoods when we think of chicken and rice soup. It really can hit the spot sometimes—so simple and yet so delicious. Keep in mind that if the soup is made in advance, the rice will continue to soak up the broth as it sits. Feel free to add more broth as you like."
--Emeril Lagasse
Ingredients
2 pounds boneless, skinless chicken breasts, cut into 3/4-inch dice
1 tablespoon Emeril's Original Essence or Creole Seasoning
1 tablespoon olive oil
2 cups diced onions (small dice)
1 1/2 cups diced carrots (small dice)
1 1/2 cups diced celery (small dice)
1 tablespoon minced garlic
1 teaspoon dried basil
1 teaspoon salt
1/4 teaspoon crushed red pepper
2 quarts chicken stock or canned, low-sodium chicken broth, plus more if needed
1/2 cup uncooked long-grain white rice (see Note)
One 5-ounce bag prewashed spinach
Cooking Directions
Place the chicken in a medium bowl, season with the Essence, and set aside.
Heat the olive oil in a 6-quart (or larger) soup pot over medium-high heat. Add the onions, carrots, and celery and cook, stirring occasionally, until the onions are translucent, about 5 minutes.
Add the garlic, basil, salt, and crushed red pepper, and continue to cook for 1 minute. Add the chicken and cook for 3 minutes. Add the broth and the rice, cover the pot, and bring to a boil over high heat. Remove the cover, reduce the heat to a simmer, and cook until the rice is just tender, about 12 minutes.
Stir in the spinach, and serve immediately.
Note: If you have cooked white rice on hand, omit the uncooked rice and simply stir in about 11/2 cups cooked rice just before you add the spinach.
Yield: 3 1/2 quarts, 6 to 8 servings
Other Recipes That You Might Like