Spaghetti Carbonara
Full of Taste, but With Fewer Calories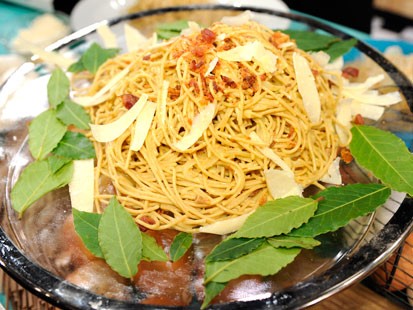 From the kitchen of Rocco DiSpirito
|
"Though they are both outrageously rich pasta sauces, carbonara and Alfredo are distinctly different. The base for Alfredo is cream and Parmigiano-Reggiano. The base for carbonara includes onions, bacon or pancetta (originally it was guanciale -- cured pigs' cheeks), egg yolks and Parmigiano- Reggiano or Pecorino Romano. At almost 1,000 calories per serving, this dish was ripe for a makeover."
-- Rocco DiSpirito, "Now Eat This"
Ingredients
8 ounces whole-wheat spaghetti
Nonstick cooking spray
1 large yellow onion, sliced thin
Salt and freshly ground black pepper
4 garlic cloves, minced
1/2 cup evaporated skim milk
2 large egg yolks
1/3 cup real bacon bits, such as Hormel Real Bacon Bits
1/3 cup grated Parmigiano-Reggiano cheese
Cooking Directions
Bring a large pot of salted water to a boil. Add the pasta and cook according to the package directions, about 10 minutes. Drain.
While the pasta is cooking, heat a large cast-iron skillet over high heat. When the skillet is hot, spray it with cooking spray and add the sliced onion. Season the onion with salt and pepper to taste and saute, stirring occasionally, for 6 minutes or until almost tender. Reduce the heat to medium-low and add the garlic. Continue to cook until the onion tender, about 5 minutes.
Meanwhile, in a small bowl, whisk together the evaporated milk and the egg yolks.
Add the bacon and the pasta to the skillet containing the onions and garlic, and mix well. Remove the skillet from the heat and add the egg mixture. Toss the pasta with tongs to coat it, allowing the residual heat to thicken the sauce. Stir in the cheese, and season the pasta with salt and pepper to taste, if desired. Serve immediately.
Serves 4.
NOW YOU CAN EAT THIS!
Before: 51.6 grams fat; 967 calories
After: 7 grams fat, 331 calories
Protein: 19 g
Carbohydrates: 52 g
Cholesterol: 119 mg
Fiber: 5 g
Sodium: 584 mg
Other Recipes That You Might Like