Fettuccine Alfredo
Low Cal Alfredo? Too Good to Be True!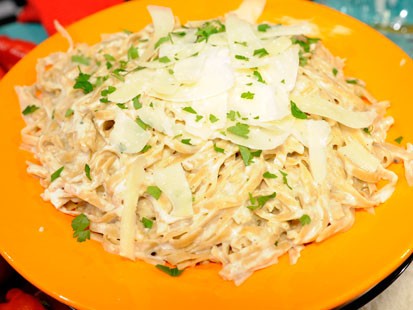 From the kitchen of Rocco DiSpirito
"I once ate true Fettuccine Alfredo at Ristorante D'Alfredo in Rome, where a giant picture of its namesake owner hangs on the wall. The big flavors of the dish were brought to bear by combining outsized amounts of butter and Parmigiano-Reggiano. It was that simple: butter and cheese. Not so simple, though, if you're watching your waistline. This version eliminates the cream that many American versions call for but retains a little bit of the butter for flavor. The velvety-smooth texture is re-created with yogurt and thickened chicken broth. It may not be as authentic as the original, invented by Alfredo di Lelio, but it's a very tasty version we can all live with (for a very long time)."
-- Rocco DiSpirito
Ingredients
8 ounces whole-wheat fettuccine
1 tablespoon butter
3 garlic cloves, minced
2 teaspoons cornstarch
Pinch of ground nutmeg
3/4 cup low-fat, low-sodium chicken broth
3/4 cup grated Parmigiano-Reggiano cheese
3/4 cup 5% Greek yogurt
Salt and freshly ground black pepper
Cooking Directions
Bring a large pot of salted water to a boil. Add the fettuccine and cook according to the package directions, 9 to 11 minutes; drain.
While the pasta is cooking, melt the butter in a large nonstick saute pan over medium heat. Add the garlic and cook until it is fragrant, about 2 minutes.
Meanwhile, combine the cornstarch and nutmeg in a small bowl. Whisk in the chicken broth until smooth. Pour the mixture into the saute pan, raise the heat, and bring the sauce to a simmer, whisking occasionally. Whisk in 1/2 cup of the cheese until it has melted. Remove the saute pan from the heat and whisk in the yogurt until the sauce is smooth.
In a large bowl, toss the cooked fettuccine with the Alfredo sauce. Season with salt and pepper to taste, if desired. Top the pasta with the remaining 1/4 cup cheese, and serve.
Serves 4.
Courtesy of "Now Eat This"
Before: 75 g fat, 1,220 calories
After: 10.4 g fat, 336 calories
Protein: 18 g
Carbohydrates: 47 g
Cholesterol: 27 mg
Fiber: 5 g
Sodium: 745 mg
Recipe Summary
Main Ingredients: fettuccine, butter, garlic, yogurt
Course: Dinner, Lunch, Main Course