10 Things You Should Eat: Avocado Soup
From Anahad O'Connor and Dave Liberman's Book 'The 10 Things You Need to Eat'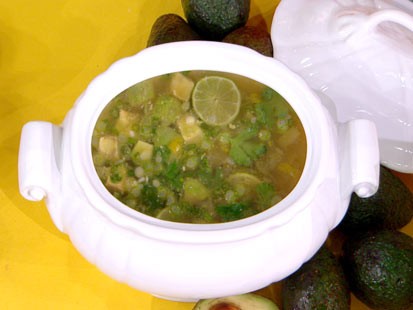 From the kitchen of Anahad O'Connor and Dave Liberman
Whenever I cook with avocados I conjure up the flavors of Mexico, which really works out well, because bright and flavorful ingredients such as lime, cilantro, and spice are just what it takes to bring out the best in creamy avocados. You can serve this soup chilled, but the flavors are much more pronounced and vibrant if you keep it hot.
-- "The 10 Things You Need to Eat" by Anahad O'Connor and Dave Liberman
Ingredients
1 large leek
3 tablespoons olive oil
3 medium celery stalks, roughly chopped
1 large onion, roughly chopped
2 bay leaves
1 quart chicken or vegetable stock
1/2 teaspoon ground coriander
1/4 teaspoon ground cumin
1 large ripe Hass avocado, pitted, peeled, and mashed
Juice of 1 lime
Salt and freshly ground black pepper
1 small bunch of scallions, finely chopped
1 small bunch of cilantro, finely chopped
Cooking Directions
Trim the root end of the leek, cut off the tough green leaves, cut the leek in half lengthwise, and rinse well to remove any grit. Roughly chop the leek.
Heat the olive oil in a large pot or Dutch oven over medium-high heat. Add the leek, celery, and onion and cook for about 5 minutes, or until the vegetables soften.
Add the bay leaves, stock, coriander, cumin, avocado, and lime juice and simmer for about 10 minutes. Season with salt and pepper to taste. Ladle into bowls and serve topped with the chopped scallions and cilantro to taste.
Yield: 8 servings
Recipe Summary
Main Ingredients: avocado, cilantro
Course: Appetizer/Starter, Dinner, Soup