Matt Goulding's Yogurt Parfait
Recipe Courtesy "Cook This, Not That"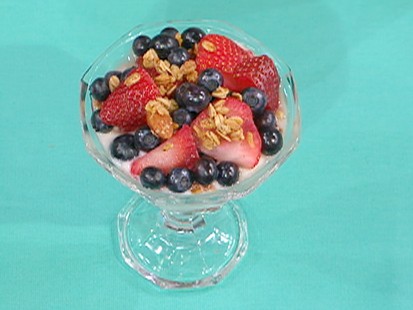 Healthier versions of your favorite restaurant dishes that you can make at home.
From the kitchen of Matt Goulding
Ingredients
1 cup strawberries, sliced
1/2 cup blueberries
2 teaspoons sugar
4 to 5 mint leaves, sliced thinly
1 8 ounce container low-fat plain Greek-style yogurt
1/4 cup granola
Cooking Directions
Combine the fruit, sugar, and mint in a bowl and allow to sit for 3 to 4 minutes.
Spoon half of the yogurt in the bowl, top with half of the fruit and granola, then repeat with the remaining yogurt, fruit and granola.
Pour any juice from the fruit over the top.
330 calories
8 g fat
34 g sugar
Recipe Summary
Main Ingredients: yogurt, strawberries, bluebuerries, granola, mint leaves
Course: Breakfast, Brunch, Snack