Matt Goulding's Pesto Gnocchi with Green Beans and Tomatoes
Recipe Courtesy "Cook This, Not That"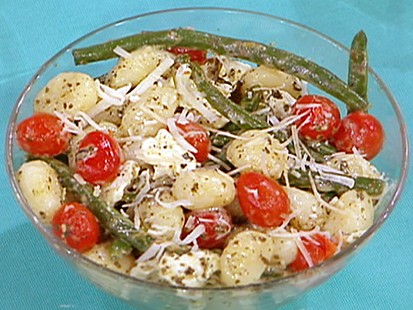 From the kitchen of Matt Goulding
|
Ingredients
1 tablespoon olive oil
1 pound green beans
1 pint cherry tomatoes
Salt
1 16 ounce package potato gnocchi
1/2 cup pesto
1 cup bite-size cubes of fresh mozzarella
Parmesan Cheese, freshly grated
Cooking Directions
Set a large pot of water over high heat.
Heat a large skillet or saute pan over medium heat.
Add the olive oil and green beans to the skillet and cook for 3 minutes, then toss in the tomatoes and continue to cook until the green beans are tender (but still crisp) and the tomatoes are browned on the outside.
Remove from heat.
Salt the water after it reaches a boil.
Drop the gnocchi in and cook until they float to the surface (4-5 minutes).
Drain and add the gnocchi to the pan with the green beans and tomatoes.
Stir in the pesto and mozzarella.
Divide among 4 warm plates or bowls and top with a bit of grated parmesan.
490 calories
22 g fat
830 mg sodium
Other Recipes That You Might Like