Emeril Lagasse's Buffalo-Style Wings
With Wing Sauce, Crudite, and Blue Cheese Dressing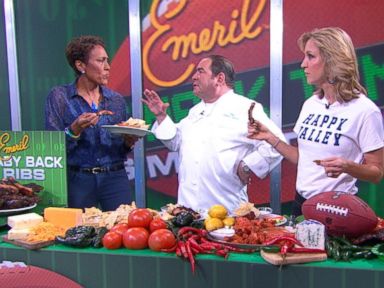 Celebrity chef Emeril Lagasse delivers his unique take on classic snacks for the big game.
From the kitchen of Emeril Lagasse
Gear up for the big game with these Buffalo-Style chicken wings with wing sauce, crudite, and blue cheese dressing from celebrity chef Emeril Lagasse.
Ingredients
20 whole chicken wings, washed well and patted dry
1 cup all-purpose flour
1 teaspoon salt
1 teaspoon freshly ground black pepper
1 teaspoon cayenne pepper
Vegetable oil, for frying
Emeril's Wing Sauce, 1 recipe
8 large carrots, cut into 2 to 3-inches by 1/4-inch batons
8 ribs celery, cut into 2 to 3-inches by 1/4-inch batons
Blue Cheese Dipping Sauce, for serving
Cooking Directions
Separate the chicken wings into drumettes and wings, discarding the wing tip joint. Place chicken wings and drumettes into a large, zip-top plastic bag or large brown paper bag.
In a small bowl, combine the flour, salt, pepper, and cayenne. Add the seasoned flour to the plastic bag and toss to coat well.
Pour the chicken pieces and excess flour onto a baking sheet and spread evenly. Allow the chicken to sit on the floured baking sheet to dry out for about 1 hour.
Preheat fryer or a large stockpot filled halfway with vegetable oil to 350 degrees F.
Add chicken to hot oil and fry until cooked through and crispy, about 10 to 13 minutes.
Place the wings in a large bowl and drizzle with 1 bottle of the Emeril's Wing Sauce. Toss to coat well.
Serve hot with the celery and carrot crudite and the Blue Cheese Dipping Sauce.
Recipe courtesy Emeril Lagasse, courtesy MSLO, Inc. 2010
Recipe Summary
Main Ingredients: buffalo-style wings, wing sauce, crudite, blue cheese dressing
Course: Appetizer/Starter, Party Platter