Grilled Kangaroo
From Public Restaurant to Your Dinner Table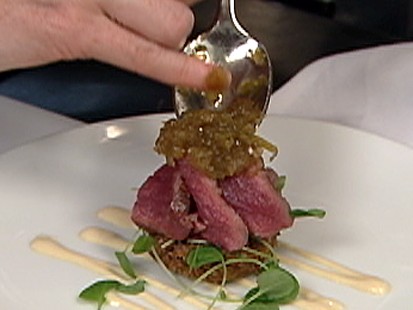 Public chef Brad Farmerie grills game meat combination of salty and sweet.
From the kitchen of Brad Farmerie
|
Ingredients
Falafel
150g dried chickpeas
75g tahini
1 bunch cilantro, chopped (stem and all)
1 green Serrano chili, sliced
1 clove of garlic, minced
1 1/4 tsp toasted cumin, ground
1/2 lemon, zest and juice
40g diced red onion
1/4 cup picked fresh mint leaves
1 tsp Maldon salt
1/4 tsp ground black pepper
Tahini-lemon sauce
125ml tahini
100ml water
80ml extra virgin olive oil
35ml lemon juice
1tsp Maldon salt
Green Pepper & Apple Relish
500g green pepper, stem core removed, chopped
250g green apples, cored and sliced
40g peeled fresh ginger, minced
12g peeled garlic, minced
1 green Serrano chili, sliced
250g sugar
100ml cider vinegar
25ml aged red wine vinegar
40ml fish sauce
Cooking Directions
Tahini-lemon sauce
Place all of the ingredients into a food processer or mixing bowl and blend together until smooth. Refrigerate until needed.
Green pepper and apple relish
Place the green peppers, apples, garlic and ginger in a food processor and process until the size of lentils.
Combine with all of the other ingredients in a pot and bring to a boil.
Reduce the heat to a simmer and continue cooking until the relish is glossy, thick, and delicious, about 45 minutes. Refrigerate until needed
to plate
Preheat a grill and a deep fryer
Allow the green pepper relish and tahini sauce to come to room temperature.
Drizzle the venison with olive oil, salt, and pepper
Grill the venison to rare and place in a warm spot to rest.
Fry the falafel at 180C (360F) until medium brown, about 3-4 minutes. Season with a sprinkle of salt.
Place the falafel in the middle of a serving dish. Drizzle with tahini lemon sauce and garnish with microgreens.
Slice the venison wafer thin. Gather into nice mounds and place on top of the dressed falafel
Finish with a small scoop of green pepper relish on the venison and serve.
Recipe Summary
Main Ingredients: kangaroo, chilis, falafel, chick peas, green pepper relish, tahini, spices
Course: Appetizer/Starter, Lunch, Main Course, Side Dish, Dinner
Other Recipes That You Might Like